Avocado filled with lime beetroot & shallot salsa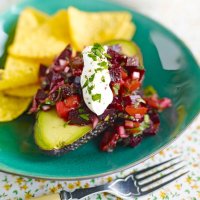 Serve this zesty dish as a refreshingly light starter for guests or have as a lively lunch for two.
Preparation: 10 mins
Serves: 4
What you need:
2 ripe avocados, cut in half lengthways, skin on, stone removed
180g lime zest beetroot, diced
6 cherry tomatoes, diced
1 shallot, very finely chopped
1 small bunch of coriander, finely chopped
1 tbsp extra virgin olive oil
A few drops of chilli sauce (e.g Tabasco), optional, to taste
4 tsp sour cream
Salt & freshly ground black pepper
A couple of handfuls tortilla chips, to serve
What you do:
Make the salsa by mixing together the beetroot, tomato, shallot and coriander. Add the olive oil, and season to taste with chilli sauce, salt and pepper.
Arrange the avocados on serving plates and spoon a little of the salsa into the middle of each, and add a spoon of sour cream on top. Add any spare salsa to a small dish and hand around separately. Serve with tortilla chips and eat immediately.
Cook's tip:
Lime zest beetroot can be purchased from Waitrose during the summer, or choose a different flavour from the infused beetroot ready-to-eat range, which includes Spicy Sweet and Fiery Beetroot (Tesco Finest), Sweet Chilli Rosebud Beetroot (M&S), Red Wine Vinegar & Orange Blossom Honey Beetroot (M&S), Sweetfire Beetroot Wedges (Waitrose), Juniper & Black Pepper in Red Wine Vinegar Baby Beetroot (Morrisons), Lime Zest Baby Beetroot (Waitrose) , Juniperberry & Black Pepper Cocktail, Beetroot (Sainsbury's Taste the Difference), Sweetflame Beetroot (Sainsbury's Taste the Difference), Honey & Ginger Baby Beetroot (Asda).
This page can be found at: http://secretsauce.co.uk/vegetarian/avocado-recipes/avocado-with-lime-beetroot-and-shallot-salsa/
A short link can also be used: http://bit.ly/1lImW18
lovebeetroot

Beetroot is enjoying something of a revival as people discover there's more to this great British vegetable than they thought. You can now buy beetroot in so many different ways – raw, cooked, marinated, lightly pickled - there's so much to beetroot than the jar of pickled beetroot many of us will remember from our childhood.
More from lovebeetroot

A delicious, healthy smoothie with a ginger kick

The infused beetroot in this dish makes for a lively and flavour-packed lunch. The sweet potato will keep you going right through the afternoon.

The aromatic taste of juniperberry & black pepper-infused beetroot is wonderful tossed through this salad which makes for a substantial lunch or light supper.
Popular in avocado recipes

A delicious, healthy and quick snack or light lunch bursting with subtle flavours and brimming with colour!

Perfect for a party, this dip is delicious and healthy too!