Rotelline pasta with broad beans, asparagus & homemade pesto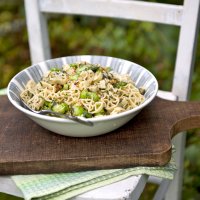 Don't reach for the pesto jar for this pasta dish, why not try making your own?

Preparation: 10 mins
Cooking: 20 mins
Serves: 4

What you need:

100g pine nuts
1 clove of garlic, peeled and crushed
1 large bunch of basil, chopped
4 tbsp extra virgin olive oil
100g Parmesan, grated
Salt and pepper
150g asparagus, tough ends removed
200g broad beans, podded (approx. 400g unpodded)
400g Rotelline pasta

What you do:
To make the pesto, smash the pine nuts, garlic and basil in a pestle and mortar, then add the oil and Parmesan, season with salt and pepper, and set aside. OR blend in a food processer.
Cut the tips off the asparagus and slice the rest.
In a medium sized pan of boiling salted water blanch the broad beans and asparagus for 2 minutes, then drain and refresh under cold running water.
Squeeze the beans out of their shells and set aside with the asparagus.
In a large pan of salted boiling water, cook the pasta to the packet's instructions. At the last minute add the asparagus and broad beans, then drain and place in a large bowl.
Mix in the pesto and divide between 4 warm bowls and serve
This page can be found at: http://secretsauce.co.uk/pasta-rice/pesto-recipes/rotelline-pasta-with-homemade-pesto/
A short link can also be used: http://bit.ly/Sg0rie
British beans and peas
British beans and peas evoke the taste of summers gone by. From June to September every year savour some of the freshest British Runner, Broad and Dwarf Beans and Peas that are home grown and bursting with goodness.
More from British beans and peas

Crunchy runner beans with fresh peas and healthy couscous - this is a super healthy vegetarian dish

Red wine and blue cheese in a risotto? The perfect, easy adult dinner

If you've got vegetarians over for dinner and no idea what to cook - this is an easy and delicious recipe
Popular in pesto recipes

Pasta's a filling dish for the family and this cavolo nero pesto pasta is ready in just 15 minutes - perfect for mid-week meals

Delicious and healthy main meal recipe - perfect if you're starting the New Year on a health kick!