James Tanner's garden pea, mushroom & goat's cheese quick risotto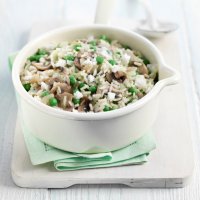 Celebrity chef James Tanner devised this quick risotto for Uncle Ben's so you can get your dinner on the table speedily and cheaply!
Serves: 4
Prep Time: 4 Mins
Cooking Time: 11 Mins
Cost per serving: £2.35
What you need:
2 x Uncle Ben's Long Grain Express rice
300g x frozen garden peas
200g chestnut mushrooms sliced
200g x goat's cheese log
¾ pint of vegetable stock
1 x finely chopped onion
2 x cloves of garlic
1 x tbsp vegetable oil
1 x tbsp extra virgin olive oil (optional)
What you do:
Heat a non stick pan on the stove top; add a splash of vegetable oil and sauté the garlic and onion for 1 minute.

Add sliced mushrooms and cook for a further minute.

Heat ½ pint of the vegetable stock and bring to a simmer.

Next add 200g of the frozen peas cook for 1 minute then blend and pass mixture through a fine sieve.

Add the Uncle Ben's Long Grain Express rice to the frying pan and stir through the vegetables.

Add pea puree mixture and cook for two minutes then crumble in ¾ of the goats cheese and the remaining whole peas and cook for a further minute.

Loosen the mixture with the remaining hot stock and season to taste.

Spoon the mixture into bowls and crumble the remaining goats cheese over the top before drizzling with extra virgin olive oil and serving.
This page can be found at: http://secretsauce.co.uk/pasta-rice/risotto-recipes/james-tanners-quick-risotto/
A short link can also be used: http://bit.ly/emjbZ2
Uncle Ben's

Uncle Ben's chefs have spent years developing a range of products that bring the flavours of the world to mealtimes. The range includes perfect rice, every time, the subtle flavours of the Orient, a Mexican Fiesta, a taste of Indian and a fantastic Thai range.
More from Uncle Ben's

This easy-to-make tasty meal is really healthy - helping you towards your 5-a-day. Make it with beef mince, or choose Quorn mince if you're vegetarian.

A family favourite, learn how to cook it up in minutes!

Make a tasty treat for Bonfire Night (and beyond!) with this easy solution for a fun family supper.
Popular in risotto recipes

A lovely, filling meal that takes only 5 minutes to prepare and there are some great tips at the end of this recipe to help you save money!

This recipe's really quick to make with tender asparagus and nutty Parmesan the stand-out flavours in this dish

Got home late, hungry and need a quick and easy meal for two? This mushroom, rocket and pea risotto is ready in a flash and will you leave you content!