Easy vegetable risotto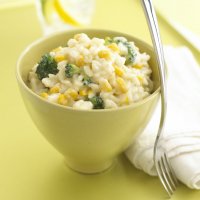 This is the easiest vegetable risotto you can imagine - you don't even have to bother grating the cheese and it's a real hit with kids!
Serves: 4
Ready in: 30 minutes
Equipment: 1 large pan
Per portion
490 Cals - 25% GDA
8g Sugar - 9% GDA
12g Fat - 17% GDA
6g Sat Fat - 30% GDA
1.9g Salt - 32%
2 portions of vegetables
What you need:
400g broccoli
1.2 L vegetable stock
1 tbsp olive oil
1 medium onion, finely chopped
2 cloves garlic, crushed
300g risotto rice
198g can green Giant Sweetcorn, drained
8 triangles (140g) Laughing cow cheese
What you do:
Cut the florets from the stalk of the broccoli, cut the florets into small pieces.
Pour the stock into a large pan and bring to simmer, leave on a low heat.
Heat the oil in a large pan and cook the onion over a medium heat until golden and softened. Add the garlic and rice and cook for a further minute.
Add a ladleful of the hot stock and boil until the liquid has been absorbed. Pour in half of the remaining stock and simmer for 10 minutes, or until the liquid has been absorbed, stirring from time to time.
Add the raw broccoli florets to the risotto with the remaining stock, drained sweetcorn and cook, stirring for 5 minutes, until the liquid has almost been absorbed and the rice is tender but still has a sloppy consistency. Add little extra stock if needed.
Add the soft cheese and stir over a low heat until the cheese has melted. Season if needed.
This page can be found at: http://secretsauce.co.uk/pasta-rice/risotto-recipes/easy-vegetable-risotto/
A short link can also be used: http://bit.ly/gxFw9v
Green Giant

Green Giant sweetcorn and specialty vegetables are the perfect way to make sure you and your family get their five recommended daily servings of fruit and vegetables a day. Products contain no artificial additives or preservatives, just lots of tasty goodness that everyone can enjoy.
More from Green Giant

Children love pasta and they'll love this dish with their favourite sweetcorn. This basic tomato sauce is a great standby recipe which will become a favourite dish as leftover ingredients can be added to ring the changes.

Italian dishes don't come finer than a traditional spaghetti Bolognese and this one is sure not to disappoint

Macaroni with a large helping of stretchy melted cheese and a creamy topping - comfort food doesn't get any better than this
Popular in risotto recipes

A lovely, filling meal that takes only 5 minutes to prepare and there are some great tips at the end of this recipe to help you save money!

This recipe's really quick to make with tender asparagus and nutty Parmesan the stand-out flavours in this dish

Got home late, hungry and need a quick and easy meal for two? This mushroom, rocket and pea risotto is ready in a flash and will you leave you content!