Creamy pasta bake with beetroot & smoked ham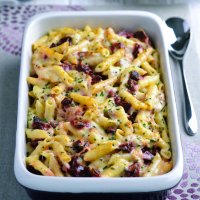 Pasta bakes are a great mid-week dinner because they're delicious, easy to cook and need hardly any preparation!
Preparation: 20 mins
Cooking: 20 mins
Serves: 4
What you need:
375g dried pasta shapes, e.g. conchiglie, fusilli or penne
1 onion, finely chopped
50g unsalted butter
1 clove garlic, crushed
2 tbsp plain flour
450ml milk
150ml double cream (or use extra milk for a less rich option)
150g gruyere or mature cheddar, grated
200g piece smoked ham, torn into shreds
Small bunch chives, snipped
Salt & freshly ground black pepper
500g cooked beetroot (2 packs), cut into 1cm cubes
What you do:
Preheat the oven to 180°C.
Cook pasta according to packet instructions. Drain and reserve.
Set a heavy based saucepan over a low heat, sweat the onion in the butter for 10-15 minutes until it starts to soften. Add the garlic and fry for a further minute before stirring through the flour.
Pour in milk and cream, and bring up to the boil, stirring constantly until thickened. Simmer steadily for 2-3 minutes to cook the flour.
Turn out the heat, stir through half the cheese, the ham and chives. Season to taste with salt and freshly ground black pepper.
Stir through the cooked pasta and beetroot and spoon into a baking dish. Scatter over the rest of the cheese and bake for about 20 mins golden brown and bubbling.
Serve immediately, accompanied by a green salad.
This page can be found at: http://secretsauce.co.uk/pasta-rice/penne-recipes/creamy-pasta-bake-with-beetroot-and-smoked-ham/
A short link can also be used: http://bit.ly/Q51F0t
lovebeetroot

Beetroot is enjoying something of a revival as people discover there's more to this great British vegetable than they thought. You can now buy beetroot in so many different ways – raw, cooked, marinated, lightly pickled - there's so much to beetroot than the jar of pickled beetroot many of us will remember from our childhood.
More from lovebeetroot

The infused beetroot in this dish makes for a lively and flavour-packed lunch. The sweet potato will keep you going right through the afternoon.

A delicious, healthy smoothie with a ginger kick

The aromatic taste of juniperberry & black pepper-infused beetroot is wonderful tossed through this salad which makes for a substantial lunch or light supper.
Popular in penne recipes

With hardly any preparation required, this pasta dish delivers exactly what it says it will, it's quick and delicious!

Salty parma ham with deliciously sweet asparagus makes a main course full of flavour and filling too

This cheesy meatball and pasta bake makes a great midweek meal, perfect for all the family. The natural, mild taste of Dutch Edam means this pasta dish is a winner with the kids. Just serve with a crisp green salad.