Aldo Zilli's pappardelle with pancetta, pesto & mushrooms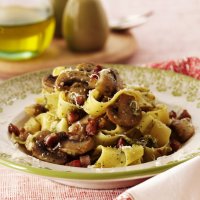 Celebrity chef Aldo Zilli has devised this recipe that tastes delicious, is ready in a flash and costs under £1 per serving!
Preparation: 10 mins
Cooking: about 10 mins
Serves: 4
Costing: £0.94 per serving
Nutritional information:
Energy(kcal) 486
Protein 22.0
Fat (g) 20.8
Of which saturates (g) 6.6
Carbohydrate (g) 56.1
Of which sugars (g) 2.8
Fibre (g) 2.9
Salt (g) 1.7
One of your 5-A-DAY
What you need:
300g/11oz pappardelle, fettucine or other ribbon pasta
150g/5oz smoked bacon or pancetta, sliced
250g pack of closed cup or chestnut mushrooms, sliced
60ml/4 tbsp fresh pesto (see below)
parmesan cheese to serve
For the pesto:
25g/1oz fresh basil leaves
30ml/2 tbsp toasted pine nuts
2 garlic cloves, peeled
150ml/1/4pt extra virgin olive oil
25g/1oz Parmesan, freshly grated
75g/3oz Pecorino, freshly grated
salt and freshly ground black pepper
What you do:
First make the pesto; blitz all ingredients together in a food processor. If keeping for a while, store in an airtight container with a little olive oil, drizzled over the top.
Cook the pappardelle in boiling salted water for 6 mins or according to pack instructions until 'al dente'. Meanwhile, heat a large frying pan and add the pancetta. Fry for 2 mins until the fat begins to run, then add the mushrooms and cook over a high heat, stirring occasionally for 6-8 mins or until the mushrooms and pancetta are golden. Season with plenty of ground black pepper.
Drain the pasta and immediately add to the mushroom pan, then add the pesto and toss well over the heat for a further minute. Season with salt and pepper to taste. Serve with Parmesan cheese.
Handy cook's tip:
Pesto sauce usually combines pecorino and parmesan cheese, but if you can't find it just use all parmesan cheese instead. Alternatively, use ready made pesto sauce.
This page can be found at: http://secretsauce.co.uk/pasta-rice/pappardelle-recipes/aldo-zillis-pappardelle-with-pancetta/
A short link can also be used: http://bit.ly/fqVnYZ
Mushroom Bureau

Not only are mushrooms inexpensive and versatile, they are also satisfying, delicious and nutritious. Their succulent and unique meaty taste adds depth and gives a balanced flavour to dishes, making them a scrumptious meat substitute.
More from Mushroom Bureau

Actress Tamzin Outhwaite is a great fan of mushrooms - she loves this recipe for a quick, delicious and healthy stroganoff - perfect for a week-night

This delicious spaghetti dish is ready in under 15 minutes and you could serve it cold for a packed lunch the next day!

Tender prawns are great in stir-fries, the cashew nuts give this dish an added crunch and the shiitake mushrooms are tender and full of flavour
Popular in pappardelle recipes

This pasta dish is creamy and comforting, but at the same time zesty and fresh

Chef Paul Collins' delicious vegetarian pasta recipe