Thai Green Curry (Geng Khiao Wan Gai)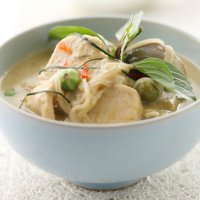 To create the perfect Thai green curry you have to get the right balance of ingredients and this recipe does it all for you
Serves: 4
Preparation and cooking time: 35 mins
What you need:
½ tsp coriander seeds
½ tsp cumin seeds
3 tbsp vegetable oil
1 tbsp Blue Dragon Thai Green Curry Paste
400ml can Blue Dragon Coconut Milk
4 chicken breasts
3 shallots sliced
2 kaffir lime leaves, shredded
2 aubergines halved and sliced
1 tbsp Blue Dragon Fish Sauce
1 tbsp sugar
15 fresh coriander or Thai sweet basil leaves
What you do:
Heat the spices in a dry pan until light brown. Grind in a pestle and mortar. Heat the oil in the pan and fry the spices for 30 seconds. Add the Blue Dragon Thai Curry Paste and fry for another 30 seconds
Add 2 tbsp of the Blue Dragon Coconut Milk (spoon from the top of the can). Fry until the oil starts to separate from the milk. Add the remaining Blue Dragon Coconut Milk
Add the chicken, shallots, kaffir limes and aubergines and simmer for 15-20 mins until tender Add the Blue Dragon Fish Sauce and sugar
Remove from the heat and divide between plates. Garnish with coriander or Thai sweet basil leaves and serve with jasmine rice
This page can be found at: http://secretsauce.co.uk/meat-poultry/thai-recipes/thai-green-curry-geng-khiao-wan-gai/
A short link can also be used: http://bit.ly/e0ioud
Blue Dragon

Blue Dragon was created over 30 years ago to help British people create authentic Chinese dishes at home. Since then it's gone truly pan-Asian, with ingredients to help create delicious dishes from Thailand, Japan and Vietnam and expanding the Chinese range.
More from Blue Dragon

Cocktail sausages cooked in honey are popular finger food, but wait until you've tried these sweet chilli versions

Isn't curry Indian? Not in this recipe - it's Chinese and delicious with egg fried rice

A delicious and unusual recipe, this sticky plum and duck stir-fry is amazing served with beetroot crisps and pistachios
Popular in thai recipes

This is an incredibly quick, no hassle meal yet it seems on serving as if you have made quite an effort

Make a one-pot Thai red chicken curry with potatoes, so you don't need to worry about getting the rice just right. Or why not serve an all-in-one roast dinner to really impress your guests.

A traditional Thai coconut soup served as a palate cleanser with the main meal