Alan Coxon's salmon fishcakes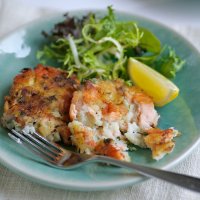 Fishcakes can be tricky to get right - you have to perfect the balance of fish and potatoes and this recipe, devised by Alan Coxon, does just that!
Prep time: 25 mins

Cook time: 15 mins

Serves: 4
What you need:
4 Desiree potatoes, quartered, approx. 500g
1 tbsp butter
500g salmon fillets, diced into 1cm pieces
2 tbsp chopped parsley
Zest and juice of 1 lemon
2 cloves garlic, crushed
4 spring onions, thinly sliced
3 tbsp oil
What you do:
Boil the potatoes for 15-20 minutes until tender, drain and return to the pan cook over the heat for 1-2 minutes to dry out. Mash well with the butter and seasoning, allow to cool slightly.
Meanwhile, mix the salmon with the parsley, lemon zest and juice, garlic and spring onions and marinate for 3-4 minutes.
Mix the salmon mixture into the potato and mould into 8 fishcakes, chill for 30 minutes.
Heat the oil in a large frying pan and fry the fishcakes in 2 batches for 3-4 minutes each side until golden.
Serve with a mixed salad.
This page can be found at: http://secretsauce.co.uk/fish-seafood/fishcake-recipes/alan-coxon-salmon-fishcakes/
A short link can also be used: http://bit.ly/eRdpis
British Potatoes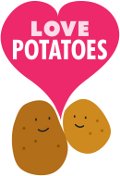 Visit the Potato Council for information on one of Britain's finest, natural, wholesome and economical foods. You'll also find potato recipes, nutritional information and tips on which potato variety to use.
More from British Potatoes

A warming and filling dish, this casserole was devised by food archeologist Alan Coxon and takes just 10 minutes to prepare

Make a one-pot Thai red chicken curry with potatoes, so you don't need to worry about getting the rice just right. Or why not serve an all-in-one roast dinner to really impress your guests.

A creamy, delicious, filling haddock and potato soup that takes mere minutes to make and was devised by food archeologist Alan Coxon
Popular in fishcake recipes

These delicious fish cakes have a secret molten fondant of creamy French goat's cheese in the middle, so no need to serve with a sauce!

Fishcakes are always a family favourite and these tuna versions are easy, filling and delicious!

A lovely traditional Thai dish, these fishcakes are really easy to make and fun to dip in chilli sauce!