Chicken stir-fry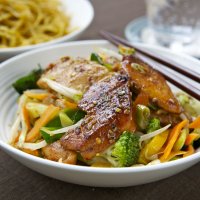 A delicious speedy supper for the whole family which has been devised by Azmina Govindji
Preparation: 12 mins
Cooking: 15 mins
Serves: 4
What you need:
3 tbsp reduced salt soy sauce
1 tsp Schwartz Ground Ginger
1 tsp Schwartz Perfect Shake Chinese Five Spice Herb & Spice Blend
1/2 - 1 tsp Schwartz Crushed Chillies (optional)
1 tbs Schwartz Sesame Seeds
1 tbs clear honey
350g (12oz) boneless, skinless, chicken breast, sliced
2 tbsp rapeseed oil
600g pack stir fry vegetables
4 spring onions, sliced diagonally
What you do:
In a large bowl mix the reduced salt soy sauce, Ginger, Chinese Five Spice, Crushed Chillies (if using), Sesame Seeds and honey. Add the chicken and stir to coat.
Set aside to marinade while you prepare the vegetables. Heat half of the oil in a wok, or large frying pan and stir fry the vegetables for about 4-5 minutes. Set aside.
Heat the remaining oil and stir fry the chicken for 3-4 minutes, reserving the marinade.
Add the reserved marinade, spring onions and chicken, cook through for a further 2 minutes, or until the chicken is cooked through.
Stir in the cooked vegetables and warm through for another couple of minutes.
Great served with boiled egg noodles tossed with Schwartz Sesame Seeds.
This page can be found at: http://secretsauce.co.uk/meat-poultry/stir-fry-recipes/chicken-stir-fry/
A short link can also be used: http://bit.ly/1ivh6yi
Schwartz

If you really enjoy cooking and have a passion for food, the new Schwartz COOK ART range will help to inspire you and allow you to create food that is noticeably and deliciously different.
More from Schwartz

Even if there isn't any sunshine outside, you can still bring sunshine to your table with this tasty Mediterranean dish

Fancy bangers but run out of potatoes? Grab the pasta from the store cupboard and this tomato and sausage linguine could be the answer to your prayers

A tasty curry devised by nutritionist Azmina Govindji
Popular in stir fry recipes

This quick and easy stir fry is ready in just 20 minutes and is great served alongside your favourite meat

For a speedy solution when time is short, kale, ginger and chicken stir fry is low in calories but not in flavour! At less than 300kcals per portion this dish is done and dusted in less than 20 minutes and costs just £1.27 per head.

A quick fix mid-week supper that's tasty and healthy