Sausage & fennel seed stew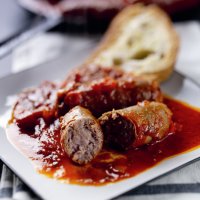 This warming, filling stew is idea comfort food when the weather's miserable and it was created by celebrity chef, Giancarlo Caldesi
Serves: 3
What you need:
6 Italian sausages
1 jar of Dolmio Taste of Sicily sauce
20ml extra-virgin olive oil
1 teaspoon of fennel seeds
½ long red chilli
3 slices of toasted rustic bread
60ml vegetable, beef stock or water
What you do:
Brown the sausages in the olive pan in a large frying pan.

Add the fennel seeds and chilli when the sausages are almost done.

Pour in the jar of sauce and cook for a further five minutes.

Serve with crusty toasted bread.
This page can be found at: http://secretsauce.co.uk/meat-poultry/sausage-recipes/sausage-fennel-stew/
A short link can also be used: http://bit.ly/icBDcT
Dolmio

Dolmio's products burst with variety and include Taste of Italy sauces, My Dolmio Pasta Range, My Dolmio Sauce Range, lasagne sauces, pasta bakes, stir-in sauces, express pasta, Bolognese and express pasta sauce.
More from Dolmio

A shortlist of 5 quality ingredients is all you need to make this easy, impressive family favourite. Go on - give them a taste of what they really love!

Lasagne is so delicious - everyone enjoys it! Why not try this delicious vegetarian version - packed with healthy fresh vegetables to help you towards your 5-a-day target

If you love seafood, you'll adore this fabulous fish lasagne. Use fresh fish from the counter, or make the most of convenient packs of mixed frozen seafood to make it easy for you
Popular in sausage recipes

This is a classic British dish that's like a giant sausage roll. Serve with greens and mustard for a traditional dinner for two

This is the best breakfast, especially if you've over-indulged a little the night before, but don't save it until then, it's great for dinner too!

Cocktail sausages cooked in honey are popular finger food, but wait until you've tried these sweet chilli versions