Roasted vegetable lasagne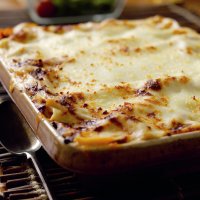 Lasagne is so delicious - everyone enjoys it! Why not try this delicious vegetarian version - packed with healthy fresh vegetables to help you towards your 5-a-day target
Serves: 4
Preparation time: 20 minutes
Cooking time: 1 hour
What you need:
500g butternut squash, peeled & cut into 2cm chunks
1 red onion, cut into wedges
1 red pepper, deseeded and cut into chunks
1 yellow pepper, deseeded and cut into chunks
2 tbsp olive oil
Salt and freshly ground black pepper
12 cherry tomatoes, halved
500g jar DOLMIO red sauce for lasagne
6 lasagne sheets (weighing about 100g)
470g jar DOLMIO white sauce for lasagne
75g grated mozzarella cheese
What you do:
Pre-heat the oven to 190°C / fan oven 170°C / Gas 5. Put the butternut squash, red onion and peppers into a large roasting tin and add the olive oil and seasoning, tossing to coat. Roast for 25-30 minutes, turning once, until the vegetables are tender. Add the cherry tomatoes, then stir in the DOLMIO red sauce for lasagne.
Tip half the vegetable mixture into a large rectangular baking dish, measuring about 26cm x 20cm. Arrange 3 lasagne sheets on top, then spread half the DOLMIO white sauce for lasagne over them. Repeat the layers, then sprinkle the grated mozzarella evenly over the surface.
Bake for 30-35 minutes, until cooked and golden brown. Allow to stand for a few minutes, then serve, garnished with a few basil leaves.
Handy cook's tips:
Make sure that you choose lasagne sheets that don't need pre-cooking (most varieties sold are ready-to-use). You can buy pre-prepared butternut squash to save time - just check the supermarket shelves in the vegetable section. Ring the changes by using different vegetables - try sweet potato, aubergine, courgettes, leeks and mushrooms. If you like, use grated Cheddar cheese as an alternative to mozzarella.
This page can be found at: http://secretsauce.co.uk/vegetarian/lasagne-recipes/roasted-vegetable-lasagne/
A short link can also be used: http://bit.ly/ijjbWV
Dolmio

Dolmio's products burst with variety and include Taste of Italy sauces, My Dolmio Pasta Range, My Dolmio Sauce Range, lasagne sauces, pasta bakes, stir-in sauces, express pasta, Bolognese and express pasta sauce.
More from Dolmio

A shortlist of 5 quality ingredients is all you need to make this easy, impressive family favourite. Go on - give them a taste of what they really love!

If you love seafood, you'll adore this fabulous fish lasagne. Use fresh fish from the counter, or make the most of convenient packs of mixed frozen seafood to make it easy for you

You can't beat a baked dish for feeding the family - and this is one of the best, made easy for you with red and white sauces for lasagne.
Popular in lasagne recipes

This vegetarian lasagne is so easy to make it's in the oven in just 15 minutes, perfect if you need a filling meal after work!

Here's a really simple recipe for lasagne which can be quite a time-consuming recipe to prepare. Even if children say they don't like spinach, with the corn mixed in they'll love this dish

Vegetable lasagne is still the most popular vegetarian dish and this is a more interesting version that uses chestnuts as the basis of the layered sauce.