Oatmeal toad in the hole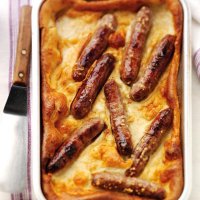 How about cooking the family a delicious meal for just £2.63? You can with this lovely toad in the hole recipe!
Cost per serving: 66p
Preparation: 10 mins
Cooking: 25 mins
Serves: 4
What you need:
2 tbsp rapeseed oil
454g pack low fat sausages
100g plain flour
50g medium oatmeal
2 medium eggs
200ml semi-skimmed milk
What you do:
Preheat the oven to 220oC, gas mark 7.
Place oil in a small roasting tin and add the sausages. Cook for 10 minutes.
Meanwhile, place flour, oatmeal and seasoning in a large bowl and whisk in the eggs. Gradually whisk in the milk to form a batter.
Pour over the sausages and bake for 20-25 minutes or until golden and risen.
Cook's tip:
Try using flavoured or herb sausages for a difference or add dried mixed herbs and mustard to the batter.
This page can be found at: http://secretsauce.co.uk/meat-poultry/sausage-recipes/oatmeal-toad-in-the-hole/
A short link can also be used: http://bit.ly/eukpFB
Wholegrain goodness

Wholegrain Goodness
is an independent campaign which aims to raise awareness of the health benefits and versatility of wholegrains.
More from Wholegrain goodness

With wholewheat spaghetti, low-fat cheese and semi-skimmed milk, this recipe is healthy and you can add your own favourite ingredients to it too

Contains three of your five-a-day plus two servings of wholegrain per person. The recipe is low in saturated fat and salt.

Delicious and healthy - yes, the two can go together in this lovely granola dessert topping
Popular in sausage recipes

This is a classic British dish that's like a giant sausage roll. Serve with greens and mustard for a traditional dinner for two

This is the best breakfast, especially if you've over-indulged a little the night before, but don't save it until then, it's great for dinner too!

Cocktail sausages cooked in honey are popular finger food, but wait until you've tried these sweet chilli versions