Light wholewheat spaghetti carbonara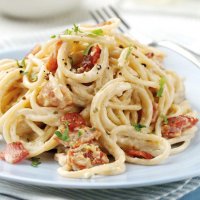 With wholewheat spaghetti, low-fat cheese and semi-skimmed milk, this recipe is healthy and you can add your own favourite ingredients to it too
Preparation: 10 mins
Cooking: 15 mins
Serves: 4
What you need:
3 tbsp rapeseed oil
8 rashers smoked back bacon, chopped
300g wholewheat spaghetti
175g low fat soft cheese with chives
50ml semi-skimmed milk
2 medium eggs, beaten
75g hard cheese (e.g. Parmesan), grated
1-2 tbsp chopped parsley to serve
What you do:
Heat 1 tbsp oil in a frying pan and fry the bacon for 4-5 minutes until crispy.
Cook the spaghetti according to pack instructions, drain and return to the pan.
Meanwhile, mix the soft cheese and milk together, stir in the eggs, remaining oil and hard cheese and stir into the drained spaghetti, along with the bacon. Cook gently for 1-2 minutes.
Serve immediately scattered with the chopped parsley.
Cook's tip:
Try adding chopped mushrooms with the bacon.
This page can be found at: http://secretsauce.co.uk/pasta-rice/spaghetti-recipes/light-wholewheat-spaghetti-carbonara/
A short link can also be used: http://bit.ly/fZQ9He
Skandi Candle
Pure soy wax candles in Flack Fig & Vetiver or Lemon fragrances - perfect for any dinner party or romantic night in.
Wholegrain goodness

Wholegrain Goodness
is an independent campaign which aims to raise awareness of the health benefits and versatility of wholegrains.
More from Wholegrain goodness

Contains three of your five-a-day plus two servings of wholegrain per person. The recipe is low in saturated fat and salt.

Delicious and healthy - yes, the two can go together in this lovely granola dessert topping

Contains one serving of wholegrain per person, as well as being low in fat, saturated fat and salt.
Popular in spaghetti recipes

A quick and easy family favourite, with great flavour.

Italian dishes don't come finer than a traditional spaghetti Bolognese and this one is sure not to disappoint

This delicious spaghetti dish is ready in under 15 minutes and you could serve it cold for a packed lunch the next day!