Couscous, tomato & salami salad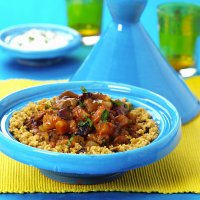 This couscous recipe is great as a main course, or just serve as a side dish with grilled meat or fish
What you need:
1 Jar Loyd Grossman Island Inspirations Tomato and Salami Sauce
30ml olive oil
1 medium courgette - roughly diced
1 red or yellow pepper -roughly diced
250g couscous
2 teaspoons ground cumin
300ml boiling water
2 handfuls of chopped rocket leaves
What you do:
Heat up the olive oil in a saucepan and add the courgettes and peppers. Cook on a medium heat for 3-4 minutes. Add the ground cumin and cook for 1 minute.

Add the Cous Cous and cook for 1-2 minutes, stirring constantly. Add the boiling water, remove from the heat immediately and cover with a tight fitting lid. Leave to rest for 5 minutes.

Heat up the sauce. When the cous cous has rested for 5 minutes, remove the lid and fluff up the grains with a fork.

Stir in the sauce and the chopped rocket leaves. Serve warm as a main course, or as a side dish with some grilled meat or fish.
This page can be found at: http://secretsauce.co.uk/meat-poultry/salami-recipes/couscous-tomato-salami-salad/
A short link can also be used: http://bit.ly/flGIrj
Loyd Grossman

Try Loyd Grossman's deliciously tasty food range, including pour over sauces, soups, pasta and breads, for premium quality and inspired variety.
More from Loyd Grossman

With hardly any preparation required, this pasta dish delivers exactly what it says it will, it's quick and delicious!

This fresh seafood and spicy chorizo paella cooked with a rich tomato and basil sauce makes a perfect one-pot dinner to share alfresco.

A fusion of juicy tomatoes, fresh cream, natural yoghurt with aromatic spices and a hint of honey served with king prawns