Royal Korma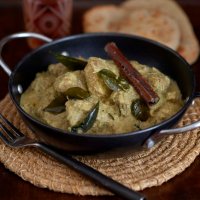 Three easy steps is all it takes to prepare this creamy Royal Korma that tastes great with lamb or chicken
What you need:
PurAsia contains:
Whole spices
Onion, garlic & ginger paste
Korma curry paste
Ingredients to provide:
3 chicken breasts (approx. 450g) - or replace chicken with lamb steaks
100ml single cream
100ml water
What you do:
Heat a tablespoon of oil in a non-stick frying pan. Add the whole spices (sachet 1) and fry gently over a low heat (It may seem strange to fry the spices first but it really helps to bring out the flavours.)
Add the onion, garlic & ginger paste (sachet 2) and fry over a low heat for about one minute (the onions & ginger really enhance the taste and texture). Add the chicken or lamb, cut into medium sized pieces, and cook until sealed on all sides.
Add the Korma curry paste (sachet 3) and stir to coat the meat. Stir in the water and cream. Bring to a simmer and cook gently for 5-7 minutes, or until the chicken is cooked (Your three-step journey is complete - now relish those results)
Serve with Basmati rice and your choice of Indian accompaniments.
Handy tip:
For an indulgent alternative, you can use coconut milk instead of the cream and water.
This page can be found at: http://secretsauce.co.uk/meat-poultry/curry-recipes/royal-korma/
A short link can also be used: http://bit.ly/hjZs1I
PurAsia

In only three simple steps,
PurAsia
's carefully selected herbs, pastes and spices will help you unlock the secrets of outstanding Asian food in your own kitchen. Take an Oriental journey with PurAsia, and be enlightened...
More from PurAsia

Juicy monkfish and tiger prawns add an exciting seafood twist to traditional Thai red curry - try it and see!
Make a delicious thai green prawn curry in just three easy steps with this quick recipe

This stir-fry is so easy to make, it's ready in just three quick steps and you can use beef or chicken - whatever you've got handy!
Popular in curry recipes

Why spend a fortune on a takeaway when you make your own delicious balti at home in a flash and you only need six ingredients!

A wonderful, traditional dish, this Penang curry is made simple with the easy ingredients in this recipe

An unusual combination of flavours for a deliciously unique chicken curry.