Black bean stir-fry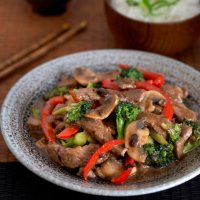 This stir-fry is so easy to make, it's ready in just three quick steps and you can use beef or chicken - whatever you've got handy!
What you need:
PurAsia contains:
Ginger and chilli aromatic oil.
Onion, garlic, ginger and chilli paste.
Black bean stir-fry paste.
Ingredients to provide:
2 chicken breasts. (approx. 300g) - you can replace the chicken breasts with lean strips of beef
Broccoli
Mushrooms
Red peppers
What you do:
Cut the chicken breasts into medium sized pieces. Cut the spring onions into 2cm pieces, dice the peppers and slice the mushrooms. Heat the pan/wok and add the ginger & chilli aromatic oil. (sachet 1).
Add the onion, garlic, ginger & chilli paste (sachet 2) and fry for 1 minute. (It's the secret to the aromatic flavour). Add the chicken and stir-fry until cooked through. Add the vegetables and cook until they start to soften (use a high heat so the mushrooms brown nicely).
Stir in the black bean stir-fry paste (sachet 3) to coat all the vegetables and meat. Simmer briefly to allow the flavours to infuse. (That's it! You've cracked the recipe, now experience the legendary taste).
Serve with rice or noodles.
This page can be found at: http://secretsauce.co.uk/meat-poultry/chinese-recipes/black-bean-stir-fry/
A short link can also be used: http://bit.ly/i2Gb0o
PurAsia

In only three simple steps,
PurAsia
's carefully selected herbs, pastes and spices will help you unlock the secrets of outstanding Asian food in your own kitchen. Take an Oriental journey with PurAsia, and be enlightened...
More from PurAsia

Three easy steps is all it takes to prepare this creamy Royal Korma that tastes great with lamb or chicken

Juicy monkfish and tiger prawns add an exciting seafood twist to traditional Thai red curry - try it and see!
Make a delicious thai green prawn curry in just three easy steps with this quick recipe
Popular in chinese recipes

Isn't curry Indian? Not in this recipe - it's Chinese and delicious with egg fried rice

A really tasty dish that works equally well with beef, pork or fish

Didn't think you could put a Chinese meal on the table in under half-an-hour? This beef in oyster sauce is a mid-week winner!