Mexican chilli bowl with crispy jacket wedges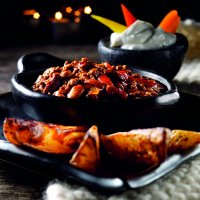 Make a tasty treat for Bonfire Night (and beyond!) with this easy solution for a fun family supper.
Serves: 4
Cals per serving: 580
Fat per serving: 19.46g
What you need:
4 large baking potatoes, each cut into 8 wedges
500g extra lean minced beef
1 x 500g jar Uncle Ben's Mild or Medium Chilli con Carne
1 tbsp olive oil
100g low fat soft cheese with garlic & herbs
100g low fat natural yogurt
2 tbsp chopped fresh chives
1 red and 1 yellow pepper, deseeded and cut into pieces
What you do:
Preheat the oven to 200°C, fan oven 180°C, gas mark 6. Put the potato wedges into a roasting pan, add the olive oil and season with salt and pepper. Toss to coat, then roast for 40 minutes, turning after 20 minutes.
Whilst the potatoes are cooking, heat a large frying pan and add the minced beef, a handful at a time, cooking it until seared and browned. Tip in the jar of Uncle Ben's Chilli con Carne, stir well, then reduce the heat and simmer for 20-25 minutes.
Meanwhile, make the dip by mixing together the soft cheese, yogurt and chives.
Serve the chilli in bowls with the jacket potato wedges, accompanied by the dip and pepper pieces.
This page can be found at: http://secretsauce.co.uk/meat-poultry/chilli-recipes/mexican-chilli-with-jacket-wedges/
A short link can also be used: http://bit.ly/fXjH32
Uncle Ben's

Uncle Ben's chefs have spent years developing a range of products that bring the flavours of the world to mealtimes. The range includes perfect rice, every time, the subtle flavours of the Orient, a Mexican Fiesta, a taste of Indian and a fantastic Thai range.
More from Uncle Ben's

This easy-to-make tasty meal is really healthy - helping you towards your 5-a-day. Make it with beef mince, or choose Quorn mince if you're vegetarian.

A family favourite, learn how to cook it up in minutes!

Why not start the school year with some new, quick and healthy family recipes, like this one?
Popular in chilli recipes

A beautifully colourful chilli con carne with a dollop of soured cream

This scrumptious chilli con carne contains a little dark chocolate to make it rich and deep and flavour, but don't worry, you won't be able to taste it as such

This hearty dish will help you add a touch of spice to your midweek meal repertoire!