Tom Aikens' lime & coriander chicken & Tenderstem rice salad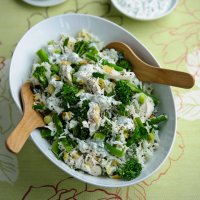 Tom Aikens, Chef and Patron of Tom Aikens and Tom's Kitchen restaurants said: 'Tenderstem is a great new vegetable to work with and a really convenient ingredient for home cooks. This quick and easy recipe will inspire you to give it a go.'
Preparation: 5 mins
Cooking: 5 mins
Serves: 4
What you need:
200g pack Tenderstem, cut into 3cm lengths
400g Greek yogurt
3 tbsp fresh chopped coriander, plus extra to serve
15 Mint leaves cut into thin strips
Juice and zest of 2 limes
4 cooked Chicken Breasts, sliced
500g cooked rice
80g toasted flaked almonds
6 sliced green spring onions
What you do:
Steam or boil the Tenderstem for 3-4 minutes until tender.
Meanwhile, mix together the yoghurt, coriander, mint, lime juice and lime zest and leave to infuse for a few minutes.
Put the chicken, rice, cooked Tenderstem, almonds and spring onions in a large mixing bowl and season.
Add the yoghurt dressing and combine the ingredients together.
Serve with a sprinkling of chopped coriander.
This page can be found at: http://secretsauce.co.uk/meat-poultry/chicken-recipes/tom-aikens-lime-and-coriander-chicken/
A short link can also be used: http://bit.ly/OwzUjE
Tenderstem
Tenderstem is a vegetable that's sweet, packed with good things and cooks in moments. And, because it's delicious from stem to tip, nothing needs to be discarded.
More from Tenderstem

Enjoy this delicious spaghetti dish created by Italian chef and owner of Zilli restaurants, Aldo Zilli

Halloumi's salty flavour is the perfect match for sweet cherry tomatoes and smooth Tenderstem broccoli

Lesley says: 'Tenderstem® Broccoli is perfect for stir-frying, it's rich in iron, vitamin C and folic acid. Roasting the duck on a rack with salt will ensure the skin goes really crispy.'
Popular in chicken recipes

For a quick and easy evening meal, chicken, leek and Cheddar bake, with melt in the mouth cheese, will be a firm family favourite that takes just 10 minutes to prepare

While you're getting this together, why not double up on the ingredients and freeze a lovely chicken and leek pie for another time?

Easy to prepare, these chicken dippers are perfect handed round at parties!