Oven baked chicken with houmous mash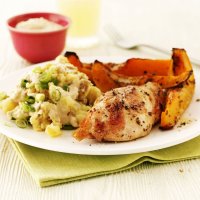 A lovely family chicken meal with the houmous mash an unusual and delicious twist
Prep: 10 mins
Cook: 30-35 mins
Serves: 4
Nutritional values:
Energy(kcal) 542
Protein 42.0
Fat (g) 24.0
Of which saturates
(g) 3.5
Carbohydrate (g) 42.2
Of which sugars (g) 11.6
Fibre (g) 6.9
Salt (g) 1.28
What you need:
1 butternut squash, skin washed
4 chicken breast fillets
3 tbsp chilli infused or extra virgin olive oil
1tsp fennel seeds, lightly crushed
Salt and freshly ground black pepper
500g new potatoes, halved if large
4 spring onions, sliced
200g pot houmous
What you do:
Preheat the oven 200C/Fan 180C/ Gas Mark 6. Halve the butternut squash and scoop out the seeds. Cut the flesh (it doesn't need peeling) into large slices. Place these in a large roasting tray. Add the chicken breasts, olive oil, fennel seeds and seasoning and turn to coat. Roast for 30-35 mins or until the chicken is golden and cooked through.
Whilst the chicken roasts, Cook the potatoes in boiling salted water for 20mins or until tender when tested with fork. Drain then return to the pan. Lightly crush the potatoes with a fork. Add the spring onions, parsley and two thirds of the houmous and mix well.
Serve the chicken and roasted squash on a bed of houmous mash with the remaining houmous and salad leaves to garnish.
This page can be found at: http://secretsauce.co.uk/meat-poultry/chicken-recipes/oven-baked-chicken-with-houmous-mash/
A short link can also be used: http://bit.ly/ifAL4J
Fresh dips
Bakkavor Foods is a leading producer of supermarket own-label dips.
More from Fresh dips

Spice up a simple tomato soup recipe with chilli and paprika, then serve with a dollop of sour cream and chive dip and warm crusty bread

It's always a struggle getting your five a day but this recipe counts as 2 portions per serving. Don't forget the houmous and mint dip as a delicious side dish

This is a cheats' recipe for a classic Spanish tapas dish. Potatoes topped with spicy tomato and chilli sauce, the name literally means fierce potatoes
Popular in chicken recipes

For a quick and easy evening meal, chicken, leek and Cheddar bake, with melt in the mouth cheese, will be a firm family favourite that takes just 10 minutes to prepare

While you're getting this together, why not double up on the ingredients and freeze a lovely chicken and leek pie for another time?

Easy to prepare, these chicken dippers are perfect handed round at parties!