Braised Andalucian chicken in Spanish olive sauce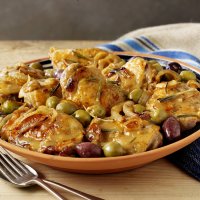 A delicious chicken dish using the finest ingredients from Spain
Preparation: 5 mins
Cooking: 35 mins
Serves: 4
What you need:
50ml Spanish olive oil
8 free range chicken thighs
1 head of garlic
1 Spanish onion
2 tea spoons of flour
2 sprigs of fresh rosemary
1 glass of dry white wine
Black pepper powder
1 glass of water
200g of pitted green and pitted black Spanish olives
Salt
What you do:
Place a wide pan over a high heat and add a touch of olive oil, then lightly season the chicken thighs and brown in the pan. Place skin side down first, as they will release a touch of fat, which will help to colour the meat and caramelise the rest of the ingredients.
Once both sides are golden, set them aside and start frying the thinly sliced garlic and onion.
When golden, add the flour and stir constantly for 1 minute so that the flour doesn't become doughy or lumpy.
Bring the chicken back to the pan, add rosemary and pour in the glass of white wine.
Stir the sauce to dissolve the flour and reduce the wine by half to burn the alcohol and add the acidity that the dish needs.
At this point add the black pepper, the glass of water and the olives and braise the dish for approximately 20 minutes, until the chicken has tenderised and the ingredients have come together in a juicy, rich sauce.
Taste the seasoning and beun provecho!
This page can be found at: http://secretsauce.co.uk/meat-poultry/chicken-recipes/braised-andalucian-chicken-in-spanish-olive-sauce/
A short link can also be used: http://bit.ly/ooSrQ6
Olives from Spain

Anybody can cook Italian, Thai or traditional British food so why not push your culinary boundaries and try out the taste of the Mediterranean using Olives from Spain! Although often overlooked as a snack or pre-dinner nibble, olives are a tasty and nutritious ingredient that can be used in a whole host of recipes, be it tapas, main dishes and even desserts!
More from Olives from Spain

A delicious, authentic sea bass dish with a whole host of Spanish ingredients

Omar Allibhoy has used tasty Spanish ingredients fused together to create a delicious and authentic Spanish tortilla
Popular in chicken recipes

For a quick and easy evening meal, chicken, leek and Cheddar bake, with melt in the mouth cheese, will be a firm family favourite that takes just 10 minutes to prepare

While you're getting this together, why not double up on the ingredients and freeze a lovely chicken and leek pie for another time?

Easy to prepare, these chicken dippers are perfect handed round at parties!