Pan-fried sea bass with Spanish olives, piquillo peppers and dry Sherry wine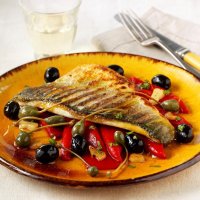 A delicious, authentic sea bass dish with a whole host of Spanish ingredients including olives from Spain
Preparation: 5 mins
Cooking: 20 mins
Serves: 4
What you need:
4 150g pieces of sea bass
1 tin of piquillo peppers
1 handful of Spanish Caperberries
4 garlic cloves
100ml of Spanish olive oil
A pinch of salt
A generous pinch of cracked black pepper
1 small glass of dry Fino wine
1 tin of pitted black Spanish olives
2 sprigs of flat parsley
What you do:
Wash and pat dry your sea bass fillets and put to one side to pan fry later.
Open the tin of piquillo peppers, cut them in half and remove any seeds.
Drain the caperberries and olives and put these aside also.
Peel and thinly slice the garlic cloves and onion, then add half of the olive oil to a hot pan and fry over a medium heat until golden brown.
Add the piquillo peppers and saute for a further 30 seconds, before adding the purple Spanish olives and caperberries and saute again.
Season with salt and pepper and add a splash of Fino wine. Let the alcohol burn and sprinkle a touch of finely chopped parsley into the pan. Taste the seasoning and alter if needed.
Take a separate non-stick pan and place over a high heat and pour in a touch of Spanish olive oil.
Score the skin of the sea bass through and then pan fry skin side down until 1/2 done, turn over, season the skin with some salt flakes and cook for one more minute.
Serve the Spanish olives sauce on to a plate and place the sea bass on the top, drizzle over a touch of olive oil to finish.
This page can be found at: http://secretsauce.co.uk/fish-seafood/sea-bass-recipes/pan-fried-sea-bass-with-spanish-olives/
A short link can also be used: http://bit.ly/rsWXQC
Olives from Spain

Anybody can cook Italian, Thai or traditional British food so why not push your culinary boundaries and try out the taste of the Mediterranean using Olives from Spain! Although often overlooked as a snack or pre-dinner nibble, olives are a tasty and nutritious ingredient that can be used in a whole host of recipes, be it tapas, main dishes and even desserts!
More from Olives from Spain

Omar Allibhoy has used tasty Spanish ingredients fused together to create a delicious and authentic Spanish tortilla

A delicious chicken dish using the finest ingredients from Spain
Popular in sea bass recipes

Tender sea bass with a sauce of shallots, cream and herbs - perfect for a dinner party or a romantic dinner for two

Leek and onion is a fantastic accompaniment to sea bass, just add it to the pan with the fish - it couldn't be easier!

Succulent fish fillets topped with melting Red Leicester cheese taste superb - especially when served with a delicious aubergine and tomato salsa