Barbecued chicken with guacamole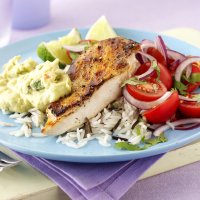 When the sun comes out, race outside and get these chicken fillets on the BBQ - just add a big helping of guacamole as the finishing touch
Prep: 5 mins
Cooking: 10-15mins
Serves: 4
Calories per portion: 304
What you need:
4 chicken breast fillets
2 tbsp olive oil
salt and freshly ground black pepper
1 (200g) pot of fresh guacamole dip
rice to serve
For the salad:
150g baby plum tomatoes, halved
1 small red onion, thinly sliced
2 tbsp chopped fresh coriander
juice of 1 lime
1 tbsp olive oil
pinch of caster sugar
What you do:
Place the chicken skin side upon a plate, rub the skin with olive oil, salt and pepper. Cook the chicken over hot barbecue coals for 10-15mins, turning once until the chicken is charred on the outside and completely cooked through.
Meanwhile, mix all the salad ingredients together in a bowl and season to taste. Serve the chicken on a bed of rice with the salad and guacamole served alongside.
This page can be found at: http://secretsauce.co.uk/meat-poultry/chicken-recipes/barbecued-chicken-guacamole/
A short link can also be used: http://bit.ly/hHAhrN
Fresh dips
Bakkavor Foods is a leading producer of supermarket own-label dips.
More from Fresh dips

Spice up a simple tomato soup recipe with chilli and paprika, then serve with a dollop of sour cream and chive dip and warm crusty bread

It's always a struggle getting your five a day but this recipe counts as 2 portions per serving. Don't forget the houmous and mint dip as a delicious side dish

This is a cheats' recipe for a classic Spanish tapas dish. Potatoes topped with spicy tomato and chilli sauce, the name literally means fierce potatoes
Popular in chicken recipes

For a quick and easy evening meal, chicken, leek and Cheddar bake, with melt in the mouth cheese, will be a firm family favourite that takes just 10 minutes to prepare

While you're getting this together, why not double up on the ingredients and freeze a lovely chicken and leek pie for another time?

Easy to prepare, these chicken dippers are perfect handed round at parties!