Autumnal beef & chestnut casserole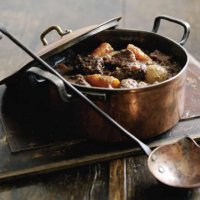 Now here's a real winter warmer that doesn't take long to prepare, then you can just pop it in the oven and put your feet up until it's ready!
Preparation: 25 mins
Cooking: 90 mins
Serves: 4
What you need:
450g/1lb lean boneless shin, stewing or braising beef, cut into 2.5cm/1inch cubes
30ml/2tbsp plain flour seasoned with salt and freshly milled black pepper and 10ml/2tsp ground nutmeg
20ml/2tsp oil
8 shallots, peeled and left whole
2 garlic cloves, peeled and crushed
175g/6oz baby carrots, topped and left whole
4 tomatoes, skinned, deseeded and roughly chopped
Grated zest of 1 lemon
450ml/¾pint good, hot beef stock
200ml/7floz good red wine
15ml/1tbsp fresh thyme leaves
200g/7oz cooked and peeled whole chestnuts
What you do:
Preheat the oven to Gas mark 3,170°C,325°F.
Place the flour, seasoning and nutmeg into a large plastic food bag. Add the beef in batches and coat with the seasoned flour.
Heat the oil in a non-stick frying pan and cook the beef for 4-5 minutes until brown on all sides. Transfer to a 1.2L/2pint ovenproof casserole dish.
In the same frying pan cook the shallots, garlic and carrots for 2-3 minutes. Spoon into the casserole dish with the tomatoes.
Add the remaining ingredients to the casserole dish, bring to the boil, cover and transfer to the oven to cook for 1½-2 hours.
Serve with mustard mash.
Cook's tip:
This recipe is perfect cooked in a slow cooker, but always refer to the manufacturer's instructions first
This page can be found at: http://secretsauce.co.uk/meat-poultry/casserole-recipes/autumnal-beef-and-chestnut-casserole/
A short link can also be used: http://bit.ly/e7ylpQ
Quality Standard beef

Quality Standard beef is produced to higher standards than required by law with a supply chain which is fully assured and independently inspected at every stage from farm to meat counter. For more recipes visit the recipe club.
More from Quality Standard beef

A great, traditional recipe, sure to keep the whole family happy. Don't forget the garlic bread!

Don't bore your guests with the usual party canapes, impress them with these little lovelies instead

A hearty and warming autumn dish that's easy to prepare and is well worth the wait!
Popular in casserole recipes

A mouth-watering, comforting dish filled with flavour that'll fill you up and warm you from the inside out

A perfect one-pot dish that can just be left to cook in the oven, making it a convenient mid-week meal

This is a great one-pot dish. Look out for good quality meat in your supermarket