Kiev beefburgers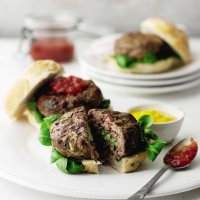 Make your own delicious burgers on the barbecue and keep your guests coming back for more - or if the British weather gets the better of you, just cook them on the grill!

Serves: 4
Preparation time: 15 minutes plus freezing time
Cooking time: 12-16 minutes
What you need:
450g/1lb lean beef mince
Freshly milled black pepper
1 small courgette, coarsely grated
For the Garlic Butter:
75g/3oz salted butter, slightly softened
2 garlic cloves, peeled and finely chopped or crushed
15-30ml/1-2tbsp freshly chopped flat-leaf parsley or chives
What you do:
To prepare the garlic butter; in a small bowl mix together all the ingredients.
Mould the butter into a cylinder shape, the diameter of a two pence coin, wrap in foil and freeze for up to 2 hours.
In a large bowl mix the burger ingredients together. Using slightly damp hands shape the mixture into 8 x 9cm/3½inch burgers, 1cm/½inch thick discs. Cut the butter into 4 x 1cm/½inch thick discs. Place a disc in the centre of each burger. Position the remaining burgers on top and continue to mould into a burger shape so that the butter discs are hidden in the centre. Cover and chill for 20 minutes.
Cook the burgers on a prepared barbecue or preheated moderate grill for 6-8 minutes on each side until cooked and any meat juices run clear.
Serve the burgers in a bun or with flatbreads, a crisp green salad and a selection of relishes.
Tip: Freeze any remaining garlic butter for up to two months and use as a flavoured butter on lamb or beef steaks or joints.
This page can be found at: http://secretsauce.co.uk/meat-poultry/burger-recipes/kiev-beefburgers/
A short link can also be used: http://bit.ly/f3o3dF
Quality Standard beef

Quality Standard beef is produced to higher standards than required by law with a supply chain which is fully assured and independently inspected at every stage from farm to meat counter. For more recipes visit the recipe club.
More from Quality Standard beef

A great, traditional recipe, sure to keep the whole family happy. Don't forget the garlic bread!

Don't bore your guests with the usual party canapes, impress them with these little lovelies instead

A hearty and warming autumn dish that's easy to prepare and is well worth the wait!
Popular in burger recipes

Mouth-watering home made burgers with an even more mouth-watering topping

Venison may be slightly unusual for a burger, but it tastes as good, if not better than traditional beef. So try something different tonight with this easy recipe.

These burgers will keep your family coming back for more - they're easy to make and delicious!