Tasty topped BBQ burgers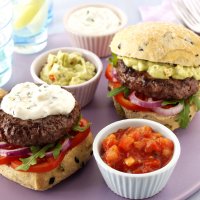 You can't beat the good old British BBQ when the sun comes out and these burgers and dips are perfect to keep your guests happy and full!
Prep: 5 mins
Cooking: 10 mins
Serves: 4
Calories per portion: 678
What you need:
4 fresh quarter pounder burgers

4 ciabatta or other crusty rolls

2 tomatoes, sliced

1 red onion, sliced

1 (200g) pot of fresh onion and garlic dip

1 (200g) pot of fresh guacamole dip

1 (200g) pot of fresh salsa dip

rocket leaves to serve
What you do:
Cook the burgers over hot barbecue coals for 8-10mins, turning once until the burgers are cooked through. Meanwhile spoon the dips into serving bowls. If liked, lightly toast the crusty rolls over the coals.

Fill the rolls with the tomatoes, onion and rocket, top each with a burger and allow your friends to top the burgers with their choice of dip.
This page can be found at: http://secretsauce.co.uk/meat-poultry/burger-recipes/bbq-burgers/
A short link can also be used: http://bit.ly/gFheXU
Fresh dips
Bakkavor Foods is a leading producer of supermarket own-label dips.
More from Fresh dips

Spice up a simple tomato soup recipe with chilli and paprika, then serve with a dollop of sour cream and chive dip and warm crusty bread

It's always a struggle getting your five a day but this recipe counts as 2 portions per serving. Don't forget the houmous and mint dip as a delicious side dish

This is a cheats' recipe for a classic Spanish tapas dish. Potatoes topped with spicy tomato and chilli sauce, the name literally means fierce potatoes
Popular in burger recipes

Mouth-watering home made burgers with an even more mouth-watering topping

Venison may be slightly unusual for a burger, but it tastes as good, if not better than traditional beef. So try something different tonight with this easy recipe.

These burgers will keep your family coming back for more - they're easy to make and delicious!