James Ramsden's warm salad of broccoli with quail eggs & bacon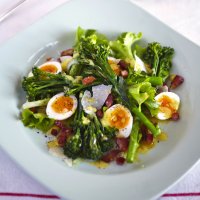 James says: 'I've always found that Tenderstem broccoli and eggs go particularly well together. There's something about the golden yolk oozing over the fresh green shoots that is irresistible. If you can't find quail eggs then a couple of hens' eggs will do the trick.'
Preparation: 2 mins
Cooking: 6-8 mins
Serves: 2
What you need:
1 tsp olive oil
100g smoked lardons
1/2 tsp Dijon mustard
2 tsp white wine vinegar
4 tsp olive oil
6 quail eggs
200g Tenderstem broccoli
A handful of salad leaves
Parmesan shavings
Salt and pepper
What you do:
Put a pan of water on to boil. Get a non-stick frying pan over a medium-high heat and add a drop of olive oil. Add the lardons and fry for 5-7 minutes, stirring occasionally, until crisp.
Meanwhile, make the dressing by whisking together the mustard, vinegar, and olive oil with a pinch of salt and pepper. Set aside. To the pan of now boiling water, carefully drop in the eggs and boil for 2 minutes. Remove with a slotted spoon and put in a bowl of cold water.
Add a pinch of salt to the same pan and simmer the broccoli for 2 minutes until tender. Meanwhile carefully peel the eggs.
Drain the broccoli well and arrange on a plate. Scatter over the lardons, and top with quail eggs, artfully cutting in half if you like. Finish with salad leaves, parmesan, and the dressing.
This page can be found at: http://secretsauce.co.uk/meat-poultry/broccoli-recipes/james-ramsdens-warm-salad-of-broccoli/
A short link can also be used: http://bit.ly/PQ3PBi
Tenderstem
Tenderstem is a vegetable that's sweet, packed with good things and cooks in moments. And, because it's delicious from stem to tip, nothing needs to be discarded.
More from Tenderstem

Enjoy this delicious spaghetti dish created by Italian chef and owner of Zilli restaurants, Aldo Zilli

Halloumi's salty flavour is the perfect match for sweet cherry tomatoes and smooth Tenderstem broccoli

Lesley says: 'Tenderstem® Broccoli is perfect for stir-frying, it's rich in iron, vitamin C and folic acid. Roasting the duck on a rack with salt will ensure the skin goes really crispy.'
Popular in broccoli recipes

Sweet potato and Tenderstem broccoli make a delicious and nutritious combination that's packed with vitamins, minerals and fibre.

These Mexican wraps are versatile, healthy and easy to prepare. If you're making this for younger children then omit the chilli powder.

A really healthy meal full of flavour and will put dinner on the table for four people in just 20 minutes