Beverley Glock's fajitas with broccoli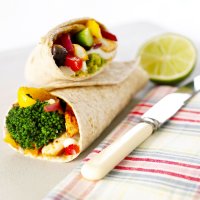 These Mexican wraps are versatile, healthy and easy to prepare. If you don't have any wraps then serve the fajita filling with noodles, rice or as a filling for baked potatoes. If you're making this for younger children then omit the chilli powder and serve with chilli sauce or chopped fresh red chilli on the side so your family can adjust the chilli heat to their own tastes. The bellaverde broccoli works really well as it cooks quickly, adds sweetness and a deep vibrant green which complements the different coloured peppers and help the dish come alive on the plate.
Preparation: 10 mins
Cooking: 15 mins
Serves: 4
What you need:
1 tbsp sunflower oil
4 chicken breast fillets, skinned
200g Bellaverde broccoli
2 small red onions
1 red pepper
1 orange pepper
1 yellow pepper
2 large, flat mushrooms
1 clove garlic, crushed
1 tsp each ground mild paprika
1/2 tsp mild chilli powder (omit if required)
2 limes
Guacamole, soured cream and grated cheese to serve
Season with salt and pepper to taste
What you do:
Bring a large pan of salted water to the boil add the bellaverde broccoli and cook uncovered for 3 mins. Drain well.
Thinly slice the chicken and finely slice the onions, peppers and mushrooms.
Heat the oil in the frying pan or wok, when hot, add the sliced chicken and stir fry over a medium heat for 3-4 minutes until just coloured.
Add the onions and peppers and stir-fry for 3-4 minutes until the chicken is just cooked and the vegetables are starting to soften, add the mushrooms and stir fry for 2 minutes.
Add the garlic and spices and cook for 30 seconds more. Squeeze 1 of the limes into the frying pan/wok and season with a little salt and pepper and stir-fry for 1 minute. Remove from heat and serve with warmed tortilla wraps.
To make up a fajita place a spoonful each of guacamole and soured cream in the middle of each wrap followed by a large spoonful of chicken mixture (there should be enough of this for 2 fajitas each), lay a spear of Bellaverde broccoli down the centre, sprinkle over some grated cheese, squeeze lime juice over the top, roll up and eat warm.
Cook's tip:
The chicken can be substituted with steak for beef fajitas or a drained 400g tin of chickpeas for vegetarian fajitas.
This page can be found at: http://secretsauce.co.uk/meat-poultry/broccoli-recipes/beverley-glocks-fajitas-with-broccoli/
A short link can also be used: http://bit.ly/MBSSl3
Bellaverde Broccoli

If you're looking for broccoli with a unique, sweet taste which is not only a versatile ingredient but is equally delicious when eaten on its own, then look no further than Bellaverde.
More from Bellaverde Broccoli

Packed full of goodness, this pasta dish will have your family well on their way to their five a day!

A tasty oven bake which is great as a midweek family meal

Steak and Hollandaise sauce is always a crowd-pleaser, just add some Bellaverde broccoli and the meal's complete!
Popular in broccoli recipes

Sweet potato and Tenderstem broccoli make a delicious and nutritious combination that's packed with vitamins, minerals and fibre.

A really healthy meal full of flavour and will put dinner on the table for four people in just 20 minutes

James says: 'I've always found that Tenderstem broccoli and eggs go particularly well together. There's something about the golden yolk oozing over the fresh green shoots that is irresistible.'