Vanilla honey yogurt smoothie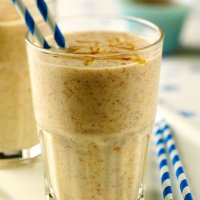 If you prefer not to eat much first thing, try this super quick low-fat breakfast drink to give you an energy boost to start the day. If you're short on time, whizz it in the liquidiser and then put it in a sealable beaker or flask to enjoy on your way to work.
An ideal light breakfast
Preparation: 5 mins
Serves: 1
What you need:
100ml semi skimmed milk
150g low fat natural yogurt
25g bran flakes
1/2 tsp vanilla essence
1 tbsp honey
What you do:
Place all the ingredients in a liquidiser or food processor and blend until smooth. Pour into a glass and drizzle over some extra honey to serve (optional).
Cook's tip:
For a smoother texture, soak the bran flakes in the milk for 5-10 minutes in advance.
This page can be found at: http://secretsauce.co.uk/drinks/smoothie-recipes/vanilla-honey-yogurt-smoothie/
A short link can also be used: http://bit.ly/10u7Y7A
Farmhouse Breakfast Week 2013
Half of people (51%) in the UK eat the same thing for breakfast every day, yet there's a huge variety of tasty, speedy options to suit everyone. In celebration of Farmhouse Breakfast Week (20 – 26 January 2013) we've developed a selection of new recipes, from on the go, quick and healthy breakfasts to more indulgent delicious weekend treats.

TV cookery expert Nadia Sawalha is supporting Farmhouse Breakfast Week and shares one of her favourite breakfast recipes. There are plenty more recipes online at www.shakeupyourwakeup.com, so why not Shake Up Your Wake Up and try something new for your morning meal?
More from Farmhouse Breakfast Week 2013

Nadia says: 'I love these delicious breakfast scones, they're so versatile. You can make them in advance, which is perfect for when I'm on the go, as I can just grab one as I rush out the door.'

This is an easy and luxurious breakfast option which can be made ahead and kept in an airtight container for up to two weeks.

Enjoy the benefit of oats with this tasty take on traditional porridge!
Popular in smoothie recipes

Need some get up and go in the morning? This smoothie is just what you need. Ready, steady...

This super quick detox smoothie is low in saturated fat and perfect to kick-start your morning

So delicious and healthy too!