Chocolate granola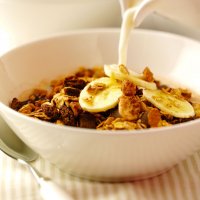 This is an easy and luxurious breakfast option which can be made ahead and kept in an airtight container for up to two weeks. Easy indulgence to help get you out of bed in the morning
Preparation: 10 mins
Cooking: 5 mins
Serves: 4
What you need:
200g jumbo oats
75g walnut pieces*, roughly chopped (or other nuts, such as macadamia)
1 tsp cocoa powder
100g raisins
25g plain chocolate chips
What you do:
Preheat the oven to 180°C, gas mark 4.
Place the oats, walnuts and cocoa in a large baking tray and spread out evenly. Bake for 5 minutes. Allow to cool. Stir in the raisins and chocolate chips.
Serve with milk, topped with sliced banana.
Cook's tip:
You could swap the cocoa with drinking chocolate and try either milk or white chocolate chips. For added indulgence add extra chocolate chips or nuts
This page can be found at: http://secretsauce.co.uk/cakes-desserts/chocolate-recipes/chocolate-granola/
A short link can also be used: http://bit.ly/UYQwlw
Farmhouse Breakfast Week 2013
Half of people (51%) in the UK eat the same thing for breakfast every day, yet there's a huge variety of tasty, speedy options to suit everyone. In celebration of Farmhouse Breakfast Week (20 – 26 January 2013) we've developed a selection of new recipes, from on the go, quick and healthy breakfasts to more indulgent delicious weekend treats.

TV cookery expert Nadia Sawalha is supporting Farmhouse Breakfast Week and shares one of her favourite breakfast recipes. There are plenty more recipes online at www.shakeupyourwakeup.com, so why not Shake Up Your Wake Up and try something new for your morning meal?
More from Farmhouse Breakfast Week 2013

Nadia says: 'I love these delicious breakfast scones, they're so versatile. You can make them in advance, which is perfect for when I'm on the go, as I can just grab one as I rush out the door.'

If you prefer not to eat much first thing, try this super quick low-fat breakfast drink to give you an energy boost to start the day.

For a weekend treat, without the calories, try this tasty and healthy hot breakfast option - easy to make and even easier to enjoy!
Popular in chocolate recipes

Lovely chocolatey gooey brownies - serve them on their own with cups of tea, or with dollops of ice cream to make a delicious dessert

Easy to make and even easier to devour, these velvety smooth chocolate truffles are just the thing to share with friends.

Fun to make and to eat, so eat it while you make it!