Warm potato & bacon salad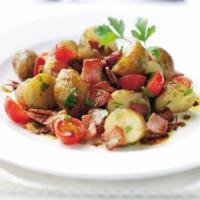 Prep Time: 5 mins
Cook Time: 15-20 mins
Serves: 4
What you need:
500g salad or new potatoes, halved
6 rashers British lean back bacon, chopped (180g)
200g cherry tomatoes, halved
1 tbsp balsamic vinegar
1 tbsp extra virgin olive oil
½ x 20g pack parsley, chopped
2 tsp honey
What you do:
Place the potatoes in a pan, cover with water and bring to the boil. Cook for 10 -15 minutes until tender. Drain.
Meanwhile, fry the bacon for 4-5 minutes until crispy. Stir into the potatoes with the remaining ingredients and season to taste before serving.
This page can be found at: http://secretsauce.co.uk/meat-poultry/bacon-recipes/bacon-potatoes-tomatoes-salad/
A short link can also be used: http://bit.ly/gpSR2o
Skandi Candle
Pure soy wax candles in Flack Fig & Vetiver or Lemon fragrances - perfect for any dinner party or romantic night in.
Potato Council
British potatoes
are the ultimate taste sensation that have stood the test of time. They're great value for money, quick and easy to cook and provide a wealth of essential nutrients.
More from Potato Council

Alex says: 'This is simply yummy, as spicy as you fancy with the King Edwards catching a lovely lick of the chicken's roasting juices.'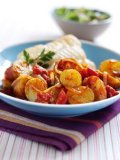 A delicious side dish to serve with any curry or Indian meal

Alex says: 'This is the good King Edward's twist on the Greek filo pastry pie, Spanakopita.'
Popular in bacon recipes

Ever seen bacon in a curry? See if this recipe converts you!

Fenland celery tastes delicious when roasted. Cooking it in little parcels keeps all the flavours and lovely juices in. Try this easy recipe for family suppers, children love anything wrapped up!

Bored of your usual lunch and have absolutely no time to spare? This delicious salad packs a real punch of flavours and is ready in under 15 minutes.