Fennel, apple & smoked trout salad with tzatziki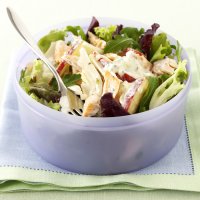 Want to make sure you get 5-a-day? Dips like guacamole, houmous and salsa can help to boost your intake of vegetables. A 200g pot of guacamole usually provides at least one of your 5-a-day, thanks to the avocado it contains. Similarly, a 200g pot of houmous contains enough chickpeas to provide one of your 5-a-day. But fresh salsa, which is packed with tomatoes and onions, is a true winner. A 200g pot usually supplies two of your 5-a-day.
Preparation: 5 mins
Serves: 2
What you need:
1 fennel bulb, thinly sliced
1 red apple, thinly sliced
100g hot smoked trout, flaked
8tbsp tzatziki
Freshly ground black pepper
1 bag of mixed salad
What you do:
Mix the fennel with the apple and gently stir in the smoked trout.
Add the tzatziki and gently combine the ingredients. Season with black pepper.
Top the salad leaves with the trout mixture and chill until required.
This page can be found at: http://secretsauce.co.uk/fish-seafood/trout-recipes/fennel-apple-and-smoked-trout-salad-with-tzatziki/
A short link can also be used: http://bit.ly/eWV6fB
Love Dips

Everyone loves fresh dips... They're a great way to start an evening and also popular as a quick and easy Sunday teatime family snack. But there's so much more you can do with dips than just dipping You can spread them into sandwiches as a tastier alternative to butter or mayonnaise, dollop them onto jacket potatoes, stir into mashed potato or serve on the side with grilled fish or chicken - a great way to use up any left overs.
More from Love Dips

For a speedy pizza, simply replace a homemade tomato sauce on the base of your pizza for fresh salsa

Use dips when you're entertaining to create simple, yet impressive starters

Make lower calorie creamy sauces to go with pasta by replacing double cream with a creamy dip
Popular in trout recipes

Great for summer, but also a healthy option for new year's resolutions and diets!