Sweet Eve strawberries with smoked salmon & cracked pepper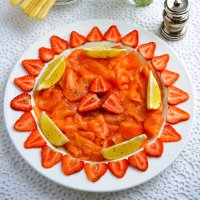 This starter may sound unusual, but the delicate, sweet tartness of fresh Sweet Eve strawberries is a perfect foil for the rich, salty oiliness of smoked salmon. The two flavours really complement one another, and the colours of this dish are very appealing.
You can either serve the strawberries and salmon together on a plate, or you could also wrap individual whole strawberries with strips of salmon, and pierce them with cocktail sticks to serve as canapes.
Preparation: 15 mins
Serves: 4
What you need:
400g of smoked salmon
200g Sweet Eve strawberries
Grated black pepper
1 lemon
What you do:
Spread the smoked salmon in equal portions on four plates. Hull the strawberries and slice them into thin slices. Cut the lemon lengthways into four sections.
Scatter the strawberries over the smoked salmon, or arrange them in a spiral round the platter. Grate the black pepper generously over the dish.
Serve with lemon wedges.
This page can be found at: http://secretsauce.co.uk/fish-seafood/smoked-salmon-recipes/sweet-eve-strawberries-with-smoked-salmon/
A short link can also be used: http://bit.ly/Oq5cdG
Sweet Eve Strawberries

Sweet, juicy and plump, British strawberries are undeniably the taste of a good summer. Sweet Eve is a new variety of British strawberry. Packed with sweetness and flavour Sweet Eve is in season from June until October and it tastes like strawberries used to taste.
More from Sweet Eve Strawberries

Sophie says: 'I love making this as a celebration cake for special occasion - the layers of meringue with the fruit in between look very pretty.'

When it gets a bit wintry nothing beats a great crumble for dessert - it's sweet, crunchy and with a dribble of custard, perfect!

Strawberries, cream and a dash of cinnamon - the perfect pudding combination.
Popular in smoked salmon recipes

Angi Slater has been awarded the accolade of creating 'Britain's Favourite Potato Recipe' by manyfacesofpotatoes.co.uk and celebrity chef James Martin in a national quest to find Britain's best potato dish.

This picnic sandwich has the perfect combination of ingredients that keeps the bread deliciously soft and fresh and wards off pesky insects and mosquitoes too!

It's a lazy Sunday morning - what will you have for brunch? New York eggs benedict is totally delicious, but you might find yourself getting up early for it!