New York eggs benedict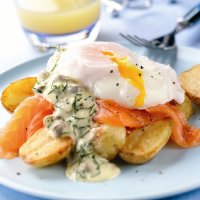 It's a lazy Sunday morning - what will you have for brunch? New York eggs benedict is totally delicious, but you might find yourself getting up early for it!
Preparation time: 5 mins
Cooking time: 10-15 mins
Serves: 4
What you need:
450g/1lb baby new potatoes, halved
3 tbsp vegetable oil
a dash of vinegar
4 large Lion quality eggs
175g/6oz smoked salmon
chives to garnish
What you do:
Boil the potatoes in boiling salted water for 5 mins, then drain. Heat the oil in a large frying pan and sauté the potatoes for 8-10 mins, stirring until golden brown and crisp. Keep warm.
Fill a large frying pan with salted water, add the vinegar and bring to the boil. Carefully crack the eggs into the simmering water then reduce the heat and cook for 3-5 mins depending how you like your eggs cooked. Lift the eggs from the water with a slotted spoon; drain on kitchen paper.
To serve, divide the potatoes between four warm plates, top with folds of smoked salmon, then place a poached egg on top of each. Scatter over chives if liked and serve.
This page can be found at: http://secretsauce.co.uk/fish-seafood/smoked-salmon-recipes/new-york-eggs-benedict/
A short link can also be used: http://bit.ly/eBsRI3
British Lion eggs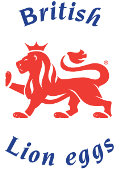 Look for the Lion on eggs to guarantee the highest standards of food safety. All Lion Quality eggs come from British hens vaccinated against salmonella and are date-stamped for freshness.
More from British Lion eggs

Celebrity chef Marcus Wareing's fantastic recipe for baked egg custard tart serves 8, but be prepared for it to only serve 4 because everyone will want a double helping!

Daniel Costello's Spanish baked eggs recipe was chosen by celebrity chef Paul Merrett as a winning recipe in British Lion eggs' Eggs Factor competition

A fantastic recipe for brunch - it looks decadent and you'll soon be wanting it every day!
Popular in smoked salmon recipes

Angi Slater has been awarded the accolade of creating 'Britain's Favourite Potato Recipe' by manyfacesofpotatoes.co.uk and celebrity chef James Martin in a national quest to find Britain's best potato dish.

This starter may sound unusual, but the delicate, sweet tartness of fresh strawberries is a perfect foil for the rich, salty oiliness of smoked salmon.

This picnic sandwich has the perfect combination of ingredients that keeps the bread deliciously soft and fresh and wards off pesky insects and mosquitoes too!