Prawns with coriander, ginger & lime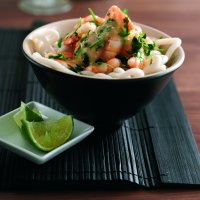 A quick and easy meal for one - treat yourself to some fresh juicy prawns and serve with rice or noodles
Serves: 1
Prep time: About 15 mins
What you need:
25g (1oz) LURPAK Slightly Salted Mini Block butter
1.25cm (1/2") root ginger, peeled and finely chopped
120g (4oz) raw king prawns, peeled
30ml (2tbsp) fresh coriander, roughly chopped
Juice and rind ½ lime
Black pepper
What you do:
Take a small deep frying pan and melt the butter, add the ginger
Add the prawns and cook until grey prawns have all turned to pink
Add the coriander, lime juice and rind, combine together and serve
Serve either with boiled noodles, rice or a large chunk of crusty bread and a green salad
This page can be found at: http://secretsauce.co.uk/fish-seafood/prawn-recipes/prawns-with-coriander-ginger-and-lime/
A short link can also be used: http://bit.ly/iiqFNe
Lurpak

There's a member of the
Lurpak
family that will complement and enhance every kind of meal. Lurpak helps unlock the flavour - simply enhancing the quality of whatever you're cooking. Respecting good food is easy when you start with the right butter.
More from Lurpak
Not sure how to make the perfect steak dinner? Well here's the only recipe you need

Got home late, hungry and need a quick and easy meal for two? This mushroom, rocket and pea risotto is ready in a flash and will you leave you content!
Popular in prawn recipes

Tender prawns are great in stir-fries, the cashew nuts give this dish an added crunch and the shiitake mushrooms are tender and full of flavour

A delicious sandwich enhanced by homemade seafood sauce

Forget the Eighties classic in a cocktail glass, this version is right up to date and includes smoked salmon!