Sirloin steak with thyme & red chilli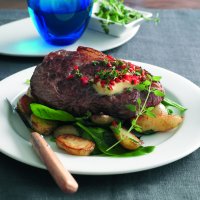 Not sure how to make the perfect steak dinner? Well here's the only recipe you need
Serves: 1
Prep time: About 20 mins
What you need:
5 new potatoes, scrubbed and cut in half
25g (1oz) LURPAK Slightly Salted Mini Block butter (use ½ for the flavoured butter & the other to sauté potatoes)
½ red chilli, deseeded and finely chopped
2 large sprigs fresh thyme, leaves removed
1 sirloin steak
Black pepper
Large handful spinach
What you do:
Place new potatoes into a pan and boil until tender
Take ½ of the butter and place in a small bowl, add the chilli and thyme - press into the butter
Place sirloin steak under preheated grill or on a griddle plate
Cook for about: 5 mins for rare / 8 mins for medium / 12 mins for Well done
Drain the potatoes, place the other ½ of the butter into a shallow frying pan and add the potatoes, cook until lightly golden
Season and add spinach, lightly combine together and serve
Serve steak with sautéed potatoes and spinach and topped with flavoured chilli and thyme butter
This page can be found at: http://secretsauce.co.uk/meat-poultry/steak-recipes/sirloin-steak-with-thyme-and-red-chilli/
A short link can also be used: http://bit.ly/dY0iVA
Lurpak

There's a member of the
Lurpak
family that will complement and enhance every kind of meal. Lurpak helps unlock the flavour - simply enhancing the quality of whatever you're cooking. Respecting good food is easy when you start with the right butter.
More from Lurpak

Got home late, hungry and need a quick and easy meal for two? This mushroom, rocket and pea risotto is ready in a flash and will you leave you content!

A quick and easy meal for one - treat yourself to some fresh juicy prawns and serve with rice or noodles
Popular in steak recipes

A juicy, tender steak with a traditional peppercorn sauce and an added chilli kick, ready in just 10 minutes

To celebrate its 35th birthday this year, Beefeater has released four exclusive and, until now, secret recipes using four of their most popular sauces so you can recreate the ultimate steak eating experience at home

To celebrate its 35th birthday, Beefeater has released four exclusive and, until now, secret recipes using four of their most popular sauces so you can recreate the ultimate steak eating experience at home