Ham salad sandwich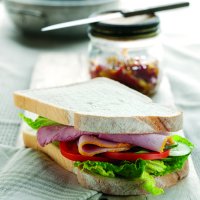 Run out of ideas of sandwich fillings for a picnic? Try this ham salad sandwich for a quick, healthy lunch
What you need:
2 slices Warburtons Soft White Farmhouse bread
Butter, for spreading
2 crisp lettuce leaves (such as Romaine), roughly shredded
1 ripe tomato, sliced
1 spring onion, thinly sliced
5-6 thin slices cucumber
2 slices British roast ham
A little salt and freshly ground black pepper
Mustard or piccalilli (optional)
What you do:
Spread the bread with butter, then top one slice with lettuce, tomato, cucumber and spring onions
Season
Fold the slices of ham in half and place on top of the salad
Sandwich together with the remaining slice of bread and cut in two
Enjoy it with a little mustard or piccalilli for a typically English treat
This page can be found at: http://secretsauce.co.uk/meat-poultry/ham-recipes/ham-salad-sandwich/
A short link can also be used: http://bit.ly/h7BLU7
National Bread Week 2010

Warburtons is toasting a decade of National Bread Week, which is kicking off from 3rd May to 9th May 2010. This year is all about celebrating the joys of bread and one of our great British traditions – picnics! Whether you're having an intimate picnic for two, a family gathering with the kids or an al fresco party, Warburtons has some delicious, healthy sandwich recipes for any picnicking occasion. So pack up your hamper, shake out the blanket and head out to the great outdoors… Visit href="http://"www.welovebread.co.uk">www.welovebread.co.uk for more delicious picnic recipes and information on how to vote for your favourite picnic spot.
More from National Bread Week 2010

A delicious sandwich enhanced by homemade seafood sauce

This picnic sandwich has the perfect combination of ingredients that keeps the bread deliciously soft and fresh and wards off pesky insects and mosquitoes too!
Popular in ham recipes

A delicious lunch or supper dish for all the family.