Asian prawn salad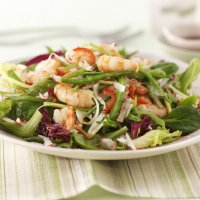 A delicious salad, full of flavour with a lovely crunch from the mangetout and it's ready in just 15 minutes
Prep: 15mins
Cooking: none
Serves: 4
What you need:
100g/4oz mange tout
150g/5oz radishes
3 spring onions, trimmed
2.5cm/1in piece root ginger, peeled
225g/8oz cooked tiger prawns
1 red chilli, deseeded and sliced
2 tbsp reduced sodium soy sauce
1 tbsp rice wine vinegar
1 tbsp vegetable oil
1 tsp caster sugar
1 (125g) leafy salad with tatsoi
What you do:
Cook the mangetout on boiling water for 1 minute, drain, then rinse in cold water and drain again. Thinly slice the mange tout and place in a bowl. Grate the radishes; thinly slice the spring onions into strips; cut the ginger into matchstick strips.
Toss together the mange tout, radishes, spring onions and ginger. Add the chilli, soy sauce, vinegar and sugar and toss together again. Leave to marinate for 5 mins.
Add the salad leaves then toss together before serving.
This page can be found at: http://secretsauce.co.uk/fish-seafood/prawn-recipes/asian-prawn-salad/
A short link can also be used: http://bit.ly/dFOm5h
British Leafy Salads Association

Gone are the days when a salad consisted of no more than a tomato and cucumber with a few leaves on the side. Thanks to the growing, production and distribution cycle and the introduction of many different types of salad leaves which are now grown in the UK, a salad can be a tasty and satisfying meal, a refreshing snack or a sumptuous starter.
More from British Leafy Salads Association

Sweet, earthy beetroot and tangy goats cheese are a classic combination.

Quick and easy to make and full of flavour, this dish will be sure to impress.

Romaine is the leaf for the Caesar salad. Its refreshing crunchy leaves add great texture and the surface of the leaves are perfect for holding the dressing.
Popular in prawn recipes

A delicious sandwich enhanced by homemade seafood sauce

Tender prawns are great in stir-fries, the cashew nuts give this dish an added crunch and the shiitake mushrooms are tender and full of flavour

Forget the Eighties classic in a cocktail glass, this version is right up to date and includes smoked salmon!