Thai green curry with mussels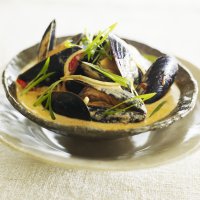 How about a tasty dinner for two, which takes 5 minutes to prepare and 5 minutes to cook? That's exactly how long it'll take you to make this delicious Thai green curry
Serves: 2
Preparation time: 5 minutes
Cooking time: 5 minutes
What you need:
1 net fresh mussels (approx 1Kg)
1 Tbsp vegetable oil
1 jar Loyd Grossman Thai Green Curry Sauce
1 Tbsp fresh coriander roughly chopped for garnish
What you do:
Scrub the mussels well, scrape off any barnacles and pull off any hairy beards, discard any with open or damaged shells and rinse in plenty of fresh water.
Heat the oil in a large pan with a tight fitting lid.
Add the mussels and sauté for 3 minutes, placing the lid on the pan and giving it a good shake. The mussels should now be open.
Pour in the Thai Green Curry Sauce, cook for a further 2-3 minutes or until the sauce has heated through, and discard any unopened mussels.
Remove from heat, stir in the fresh coriander and serve immediately.
This page can be found at: http://secretsauce.co.uk/fish-seafood/mussel-recipes/thai-green-curry-mussels/
A short link can also be used: http://bit.ly/eExpHM
Loyd Grossman

Try Loyd Grossman's deliciously tasty food range, including pour over sauces, soups, pasta and breads, for premium quality and inspired variety.
More from Loyd Grossman

With hardly any preparation required, this pasta dish delivers exactly what it says it will, it's quick and delicious!

This fresh seafood and spicy chorizo paella cooked with a rich tomato and basil sauce makes a perfect one-pot dinner to share alfresco.

A fusion of juicy tomatoes, fresh cream, natural yoghurt with aromatic spices and a hint of honey served with king prawns
Popular in mussel recipes

This warming, tasty soup is ready in a flash - under 20 minutes - so it's perfect for an after work meal

If you love seafood, you'll love mussels and when you've tasted this dish with shallots, garlic, wine and cream, you'll want to keep coming back for more