Mussel & shallot broth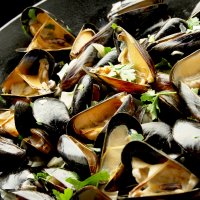 If you love seafood, you'll love mussels and when you've tasted this dish with shallots, garlic, wine and cream, you'll want to keep coming back for more
What you need:
1 kg mussels, scrubbed
4 shallots, peeled and finely chopped
2 cloves garlic, peeled and crushed
30g butter
1 tbsp olive oil
300ml white wine
200ml double cream
2 tbsp parsley, finely chopped
1 tbsp chives, finely chopped
What you do:
First check through the mussels, discarding any that are cracked or do not close when tapped sharply. Remove any 'beards' and rinse under cold running water.
In a large, deep pan with a lid, melt the butter with the olive oil. Add the shallots, cover and cook gently for 10 minutes, until softened and translucent.
Add the garlic and cook for a further 2 minutes. Pour in the white wine, bring to the boil and add the mussels. Cover and cook for 4 minutes.
Tip the mussels out into a colander set over a bowl to catch the liquid. Return the liquid to the pan and reduce slightly. Add the double cream, season and boil for 2 minutes.
Meanwhile transfer the mussels to a large serving bowl, discarding any that have not opened during the cooking process.
Add the parsley and chives to the sauce and pour over the mussels. Serve with plenty of warm, crusty bread.
This page can be found at: http://secretsauce.co.uk/fish-seafood/mussel-recipes/mussel-shallot-broth/
A short link can also be used: http://bit.ly/f3lwXG
UK shallots
UK shallots are amongst the finest in the world with a uniquely mild, sweet flavour. Used for centuries as an important ingredient in both western and eastern cooking to add flavour, sweetness and piquancy, shallots turn savoury recipes into something really special.
More from UK shallots

Tender sea bass with a sauce of shallots, cream and herbs - perfect for a dinner party or a romantic dinner for two

Tender beef with the spice of chilli and the sweetness from sweet potato creates an exciting stew-type dish bursting with flavour.

Venison may be slightly unusual for a burger, but it tastes as good, if not better than traditional beef. So try something different tonight with this easy recipe.
Popular in mussel recipes

How about a tasty dinner for two, which takes 5 minutes to prepare and 5 minutes to cook? That's exactly how long it'll take you to make this delicious Thai green curry

This warming, tasty soup is ready in a flash - under 20 minutes - so it's perfect for an after work meal