Festive fish & leek pie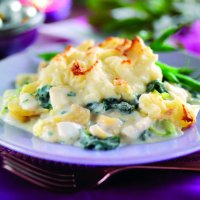 Need some ideas of what to cook the family on Christmas Eve? This festive fish and leek pie will go down a treat
Serves: 4
What you need:
900g potatoes, peeled and cut into even-sized pieces
6tbsp Alpro soya chilled alternative to cream
¼ tsp fresh grated nutmeg
250g skinless, boneless cod fillet
250g skinless, boneless smoked haddock
600ml Alpro soya Original alternative to milk
225g spinach leaves
75g dairy free margarine
2 leeks, trimmed and thinly sliced
50g plain flour
1tbsp chopped fresh parsley
salt and fresh ground pepper
What you do:
Cook the potatoes in a large pan of lightly salted water for 20minutes until cooked through. Drain and mash with the Alpro soya cream and nutmeg. Put to one side
Preheat the oven to 190˚C, Gas Mark 5. Place the fish and Alpro soya alternative to milk in a large pan and simmer for 5 minutes until the fish flakes. Remove the fish using a slotted spoon and sieve the soya milk into a jug
Gently cook the spinach in a large pan until just wilted, drain well
Melt the margarine in a clean pan, add the leeks and gently fry for 5 minutes. Stir in the flour and cook for 1 minute. Remove from the heat and gradually beat in the hot Alpro soya alternative to milk. Return to the heat and slowly bring to the boil, stirring constantly. Simmer for 2 minutes. Flake the fish and add to the sauce with the chopped parsley. Season to taste
To assemble the fish pie, place the fish sauce in a large ovenproof dish. Arrange the spinach in a layer on top. Spoon the mashed potato over to cover and bake the dish for 25-30 minutes in the oven until golden and bubbling. Serve immediately.
This page can be found at: http://secretsauce.co.uk/fish-seafood/cod-recipes/festive-fish-and-leek-pie/
A short link can also be used: http://bit.ly/eV2WJP
Alpro Soya

Alpro Soya creates delicious products for you to enjoy any time of the day. Made from the goodness of the whole soya bean, they are prepared with care and with the utmost respect for people and planet.
More from Alpro Soya

Don't just boil those potatoes - make them a dish in itself with this delicious traditional recipe

Looking for a vegetarian alternative for Christmas dinner? Try this traditional and delicious nut roast

Start the day with this substantial breakfast that will give you enough energy to last until lunchtime
Popular in cod recipes

Quick and easy to make whilst being very light and healthy, this is good food at its best.

This tender cod with a crunchy exterior is so full of flavour, you won't need much to accompany it, so keep it light with just a leafy green salad

Tender salmon and cod, with sweetcorn, cheese and spring onions, this fish pie will live up to its name and soon become a firm family favourite