Cod rarebit with Edam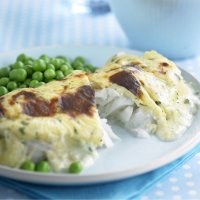 Perfect for a mid-week family meal and great if your children are fussy about fish and you want to include some in their diet - they won't be able to resist the tasty and tangy Edam topping! Perfect served with mashed potatoes and peas.

Serves: 4
Preparation time: 5 minutes
Cooking time: About 10 minutes
What you need:
4 x 150g (5oz) cod loins or chunky cod fillets
300ml (½pt) semi- skimmed milk
4 black peppercorns
1 bay leaf
50g (1¾oz) butter
50g (1¾oz) plain flour
125g (4½oz) Edam cheese, grated
5ml (1tsp) English mustard
2 egg yolks
10ml (2tsp) Worcestershire sauce
30ml (2tbsp) freshly chopped parsley
What you do:
Place the milk in a large saucepan; add the peppercorns and bay leaf. Add the cod in a single layer, bring to the oil, cover and simmer gently for 2-3 minutes, until half cooked. Carefully remove the cod with a fish slice, place in an ovenproof dish and keep warm. Reserve the milk.
Gently melt the butter in a medium pan and stir in the flour to make a paste. Strain the milk and gradually add to the paste, whisking continuously until a smooth thick sauce is formed. Remove from the heat and stir in the cheese, mustard, egg yolks, Worcestershire sauce and parsley.
Preheat the grill to high, top the fish with the mixture and grill for 4-6 minutes until bubbling and golden. Serve at once with mashed potatoes and peas.
Handy cook's tip
This recipe also works well with smoked haddock or other firm white fish. For a change, try serving with boiled new potatoes and fresh spring greens.
This page can be found at: http://secretsauce.co.uk/fish-seafood/cod-recipes/cod-rarebit-with-edam/
A short link can also be used: http://bit.ly/i9i61U
Edam

Edam has 25% less fat than cheddar - which means everyone can indulge in lovely cheese without the consequences.
More from Edam

This favourite family recipe from the 1970s is given a twist with the addition of leeks and mushrooms.

These delicious savoury muffins are perfect for brunch - they combine Edam cheese with bacon and sundried tomatoes. Delicious served warm or cold at a family picnic or in a kid's lunchbox!

This cheesy meatball and pasta bake makes a great midweek meal, perfect for all the family. The natural, mild taste of Dutch Edam means this pasta dish is a winner with the kids. Just serve with a crisp green salad.
Popular in cod recipes

Quick and easy to make whilst being very light and healthy, this is good food at its best.

This tender cod with a crunchy exterior is so full of flavour, you won't need much to accompany it, so keep it light with just a leafy green salad

Tender salmon and cod, with sweetcorn, cheese and spring onions, this fish pie will live up to its name and soon become a firm family favourite