Pissaladiere & tomatoes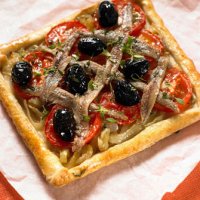 Salty anchovies with juicy tomatoes make the perfect combination for a snack, or a delicious family dinner
Serves 4
What you need:
500g Jus-Rol™ Frozen All Butter Puff Pastry - thawed
4 large onions - peeled, halved and thinly sliced
Olive oil
50g butter
Approx. 36 anchovy fillets - drained
36 black olives
Sprigs of fresh thyme
3 tomatoes – sliced
Salt and black pepper
Beaten egg to glaze
What you do:
Preheat oven to 220°C, (200°C for fan assisted), 425°F, Gas Mark 7.
Melt butter with 2tbsp. of olive oil in a large, heavy frying pan and gently saute the onions until they are a golden brown - scatter with a few sprigs of thyme towards end of cooking time, season and then allow to cool.
Meanwhile, roll out pastry to a rectangle roughly 30cm x 20cm / 12 x 8in and cut out 4 small rectangles - each approx. 15 x 10cm / 6x4in, place on a lined baking sheet and score a border around the edges.
Divide the cooled onion between the rectangles and spread to within the borders, and top with some thinly sliced tomato. Then arrange the anchovy fillets on top in a criss-cross pattern and finally dot the olives amongst the anchovies and scatter more thyme leaves over the top.
Brush the borders with beaten egg and bake for approx. 15 minutes until pastry is risen and golden brown. Serve warm or cold.
This page can be found at: http://secretsauce.co.uk/fish-seafood/anchovies/pissaladiere-and-tomatoes/
A short link can also be used: http://bit.ly/gNq8XY
Jus-Rol

Jus-Rol is the UK's pioneering pastry company, committed to providing the highest quality chilled and frozen pastry products. The product range includes ready rolled pastry sheets in both puff and shortcrust pastry, pastry blocks, as well as individual puff pastry rounds, large shortcrust pastry cases and handy pie lids.
More from Jus-Rol

A delicious, fruity dessert - the best in comfort food and just mouth-watering served with a big dollop of creamy custard

This chicken, pesto and spinach tart looks so delicious it seems a shame to cut into it! But once you do, don't expect it to be there for long!

A delicious quick and easy open tart, perfect for a summer lunch or picnic
Popular in anchovies

A fresh, vibrant salad, perfect for a hot summer's day

Valentine says: 'A salad need never be boring!'