Valentine Warner's Tenderstem broccoli with shallot vinaigrette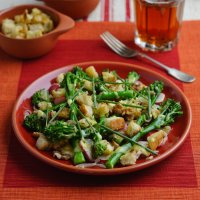 Valentine says: 'A salad need never be boring!'
Preparation: 5 mins
Cooking: 5 mins
Serves: 2
What you need:
2 banana shallots
175g Tenderstem broccoli
40g soft white sourdough crusts on cut up into croutons and a good splash more olive oil to fry in
1 1/2 tsp Dijon mustard
4 brown salted anchovies from oil very finely chopped and mashed with a knife
2 tsp white or red wine vinegar
Pinch of caster sugar
2 1/2 tbls olive oil
Small handful broken walnuts
6 small radishes, sliced lengthways
10 fresh chives snapped in half
Bunch fresh tarragon
What you do:
Peel & half and finely slice the shallots. Cook the shallots in a good splash of olive oil and saute very gently for 8 minutes until totally softened but not coloured. Season with salt to taste.
After 5 minutes of cooking the shallots, drop the Tenderstem broccoli in boiling water & cook for 2 minutes.
While the shallots and broccoli cook fry the croutons in some olive oil until golden brown, 4 minutes or so.
Combine the sugar, mustard, anchovies & vinegar, in a cup or small bowl and then beat in the olive oil until the dressing is emulsified and creamy, toss the cooked shallots & broccoli in a serving bowl with the radishes.
Strip the tarragon from the stalks and scatter it on top of the salad followed by the walnut pieces, chives and croutons.
Eat warm.
This page can be found at: http://secretsauce.co.uk/fish-seafood/anchovies/valentine-warners-broccoli-with-shallots/
A short link can also be used: http://bit.ly/PsKlGP
Tenderstem
Tenderstem is a vegetable that's sweet, packed with good things and cooks in moments. And, because it's delicious from stem to tip, nothing needs to be discarded.
More from Tenderstem

Enjoy this delicious spaghetti dish created by Italian chef and owner of Zilli restaurants, Aldo Zilli

Halloumi's salty flavour is the perfect match for sweet cherry tomatoes and smooth Tenderstem broccoli

Lesley says: 'Tenderstem® Broccoli is perfect for stir-frying, it's rich in iron, vitamin C and folic acid. Roasting the duck on a rack with salt will ensure the skin goes really crispy.'
Popular in anchovies

Salty anchovies with juicy tomatoes make the perfect combination for a snack, or a delicious family dinner

A fresh, vibrant salad, perfect for a hot summer's day