Passionetto cocktail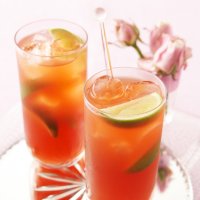 If your Valentine's Day is more routine than romance, why not add a dash of passion with this exclusive Passionetto cocktail from top relationship expert Tracey Cox. She says: "Smooth, sweet and sensual, Passionetto cocktail is the perfect way to get the party started."
What you need:
35ml premium vodka
15ml Amaretto
2 lime wedges
25ml Belvoir's delicious passion fruit and mango cordial
60ml cranberry juice
What you do:
Mix together all the ingredients in a hi-ball glass
Garnish with a lime wedge
Serve with a kiss!

This page can be found at: http://secretsauce.co.uk/drinks/alcoholic-cocktail-recipe/passionetto-cocktail/
A short link can also be used: http://bit.ly/eC56Js
Belvoir Fruit Farms

Belvoir Fruit Farms make naturally delicious and real drinks. Elderflowers are grown on their farm and fruit is pressed and ginger and lemongrass cooked to make sure the drinks taste real and fruity. No flavourings or any artificial ingredients are used.
More from Belvoir Fruit Farms

Classic lemon drizzle cake with a twist! The elderflower cordial adds an extra sweet flavour to this delicious cake. Try it and see!

I bet it's a while since you tasted a gooseberry and there's no better way to refresh your memory than with this lovely gooseberry mojito

Choose a fragrant white wine for this recipe such as a sauvignon blanc, the elderflower scents of these grapes is accentuated by the elderflower cordial.
Popular in alcoholic cocktail recipe

A blast from the past goes Cuban! A slightly more sophisticated version of that Latin crushed ice favourite.

This refreshing gin fizz cocktail was created exclusively for Jacksons of Piccadilly by food writer Ghillie James

I bet it's a while since you tasted a gooseberry and there's no better way to refresh your memory than with this lovely gooseberry mojito