Valentine's hearts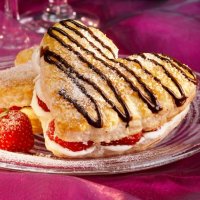 The perfect dessert for a Valentine's meal. Just make one big strawberry, chocolate and cream heart and serve with two spoons
What you need:
1 Jus Rol Puff Pastry sheet
Beaten egg to glaze
Caster sugar for sprinkling
Crème Fraiche
150g fresh Strawberries
50g plain chocolate
What you do:
Preheat oven to 220ºC ( 200 ºC for fan assisted ovens ) Gas M. 7
Unroll pastry sheet and cut out four hearts
Prick each heart with a fork, brush with beaten egg and sprinkle lightly with sugar. Place on a baking sheet and bake for approx. 10 minutes until risen and golden, allow to cool.
Slice the strawberries, and split heart in half through its equator.
Sandwich the heart together again with crème fraiche and sliced strawberries.
Melt the chocolate and drizzle across the tops of the hearts, serve two per person with a few strawberries for garnish.
This page can be found at: http://secretsauce.co.uk/cakes-desserts/valentines-recipes/valentines-hearts/
A short link can also be used: http://bit.ly/h0IIZJ
Jus-Rol

Jus-Rol is the UK's pioneering pastry company, committed to providing the highest quality chilled and frozen pastry products. The product range includes ready rolled pastry sheets in both puff and shortcrust pastry, pastry blocks, as well as individual puff pastry rounds, large shortcrust pastry cases and handy pie lids.
More from Jus-Rol

A delicious, fruity dessert - the best in comfort food and just mouth-watering served with a big dollop of creamy custard

This chicken, pesto and spinach tart looks so delicious it seems a shame to cut into it! But once you do, don't expect it to be there for long!

A delicious quick and easy open tart, perfect for a summer lunch or picnic
Popular in valentines recipes

A perfect present for Valentine's Day!

Chocolate has been used to stoke the flames of passions all over the world so let it work its magic with these chocolate cherry kirsch hearts for Valentine's Day
The perfect Valentine's Day treat for that someone special!