Nick Nairn's quick strawberry towers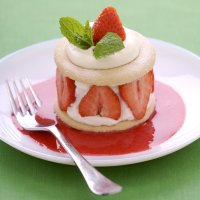 An impressive fruity dessert that's very quick and easy to make.
What you need:
8 good quality shortbread biscuits
350g Good Natured strawberries, hulled and halved
150ml whipping cream
4 teaspoons Bonne Maman or other good quality strawberry jam
For the raspberry sauce:
350g Good Natured raspberries
25g icing sugar, or more to taste
1 tablespoon fresh lemon juice
What you do:
First make the raspberry sauce. Sprinkle the sugar over the raspberries and lemon juice and leave for 20 minutes. Then force the mix through a fine sieve or chinois to remove the seeds. Cover and refrigerate until needed.
When ready to serve, whip the cream to a soft peak stage, so that it's thickened but still a bit floppy. Place a biscuit on each plate and dollop a heaped tablespoon of cream onto the centre of each.
Take 4-6 strawberry halves of roughly the same size, and arrange in a circle, cut side out and alternatively point up and point down, around the rim of each biscuit, pressing into the cream to hold them in place.
Add a teaspoonful of strawberry jam in the centre of the strawberries, dollop a little more whipped cream on top, and crown with another biscuit, pressing down gently to make sure the cream and strawberries merge together, but not so hard that the cream comes squishing out the sides!
Top with a little dollop of cream, and a half strawberry, arrange more strawberry halves around the outside of the plate, and drizzle with raspberry sauce.
This page can be found at: http://secretsauce.co.uk/cakes-desserts/strawberry-recipes/nick-nairns-quick-strawberry-towers/
A short link can also be used: http://bit.ly/m3f1ZN
Skandi Candle
Pure soy wax candles in Flack Fig & Vetiver or Lemon fragrances - perfect for any dinner party or romantic night in.
Good Natured
Good Natured produce pesticide residue free fruit and vegetables.
More from Good Natured

A delicious, low-calorie sweet treat

A satisfying and warming accompaniment to a main course

A quick, healthy and very tasty dish.
Popular in strawberry recipes

Macaroons are the perfect dessert to follow a romantic dinner - the perfect treat!

Viva strawberries and chocolate are a match made in heaven and make a delicious treat and a healthier alternative to a bar of chocolate.

These just look so good, don't they? And they're easy to make and delicious too