Apricot pecan pudding with toffee sauce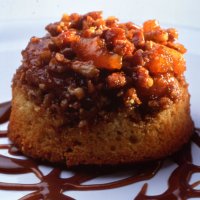 There is a great combination of textures in these very light puddings, which are served with a delicious toffee sauce

Serves: 4-6
What you need:
50g/2oz light muscovado sugar
50g/2oz pecan nuts, chopped
100g/4oz ready to eat, dried apricots, chopped
pecan nut halves, to garnish
Almond base:
75g/3oz butter or vegan margarine*
60ml/2fl oz maple syrup or soft brown sugar
1 free range egg, beaten or 1tbsp soya flour mixed with
2tbsp water*
75g/3oz ground almonds
25g/1oz soya flour
½ teaspoon baking powder
few drops vanilla essence
Toffee sauce:
200g/7oz light muscovado sugar
90ml/3fl oz double cream or soya cream*
100g/4oz unsalted butter or vegan margarine*
½ teaspoon vanilla essence
25g/1oz chopped pecan nuts
What do do:
Preheat the oven to 180C/350F/Gas 4
To make the topping, mix all the sugar, chopped pecans and dried apricots together. Divide equally between 4 well-greased, individual ramekins.
Cream the butter or margarine* for the base with the maple syrup or sugar. Add the egg or soya flour paste and mix well. Stir in the almonds, soya flour, baking powder and vanilla essence.
Spoon the mixture into the ramekins, place on a baking tray and bake in the preheated oven for 20-30 minutes
Make the sauce: put the sugar in a saucepan and use a wooden spoon to crush any lumps. Add the cream and butter (or soya cream* and vegan margarine*) and stir together over a gentle heat until the butter has melted. Bring to the boil and simmer for 2-3 minutes until toffee-coloured. Remove from the heat, then stir in the vanilla essence and chopped pecans.
Turn each pudding out onto a serving plate. Decorate with pecan halves. Spoon a little toffee sauce around the puddings and serve immediately.
Can be vegan *
Created by the Cordon Vert cookery school
This page can be found at: http://secretsauce.co.uk/cakes-desserts/pudding-recipes/apricot-pecan-pudding-with-toffee-sauce/
A short link can also be used: http://bit.ly/ewoQmh
Vegetarian Society

The Vegetarian Society is a registered charity committed to promoting the health, environmental and welfare benefits of a vegetarian diet.
More from Vegetarian Society

These Halloween snails look deliciously slimy. Who's going to be brave enough to take the first bite?

A fantastic ale and mushroom pie recipe perfect to warm you up when it's chilly outside and you want something tasty and filling

Need some get up and go in the morning? This smoothie is just what you need. Ready, steady...