Spiced beetroot & apple muffins with crunchy hazelnut topping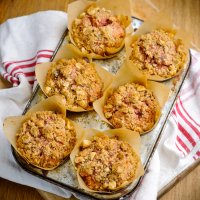 This is a great way of getting healthy beetroot into your kids' diets without them even realising it's in there!
Cooking: 20 mins
Serves: 12
What you need:
275g plain flour
2 heaped tsp baking powder
2 heaped tsp ground mixed spice
1 tsp ground cinnamon
2 large eggs
125g unsalted butter, melted
60g caster sugar
175ml milk
1 pack natural cooked beetroot, grated coarsely
2 pink lady apples, cored & grated coarsely
For the hazelnut topping:
75g self raising flour
1 tsp ground mixed spice
40g unsalted butter, cut into little cubes
75g demerara sugar
75g blanched hazelnuts, rough chopped
What you do:
Preheat the oven to 190°C. Line a 12 hole muffin tin with paper cases.
Sift the flour, baking powder and spices into a large mixing bowl. In another mixing bowl whisk together the eggs, melted butter, sugar and milk.
Pour into the flour and mix very lightly - don't worry if it looks lumpy. Finally, gently fold through the grated beetroot and apple and spoon into the muffin cases.
To make the topping, stir the mixed spice trough the flour, then add the butter, sugar and nuts.
Rub between finger and thumb until crumbly and well mixed. Sprinkle evenly over the muffins.
Bake in the oven for around 20 minutes until golden brown and springy to the touch.
This page can be found at: http://secretsauce.co.uk/cakes-desserts/muffin-recipes/spiced-beetroot-and-apple-muffins/
A short link can also be used: http://bit.ly/TNVSBD
lovebeetroot

Beetroot is enjoying something of a revival as people discover there's more to this great British vegetable than they thought. You can now buy beetroot in so many different ways – raw, cooked, marinated, lightly pickled - there's so much to beetroot than the jar of pickled beetroot many of us will remember from our childhood.
More from lovebeetroot

A delicious, healthy smoothie with a ginger kick

The infused beetroot in this dish makes for a lively and flavour-packed lunch. The sweet potato will keep you going right through the afternoon.

The aromatic taste of juniperberry & black pepper-infused beetroot is wonderful tossed through this salad which makes for a substantial lunch or light supper.
Popular in muffin recipes

When it comes to cakes, very little beats a moist, soft, light, fruity muffin and these raspberry versions are no exception

These delicious, fruity berry mini muffins are perfect for lunchbox snacks and simple enough to bake with the kids.

Sweet, delicious breakfast muffins will certainly get your morning off to a good start!