Halloween carrot muffins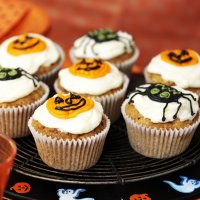 These scary-looking muffins are perfect for a kids Halloween party, but they're also great fun to make, so why not get the kids in the kitchen and get them to help you make them!
Preparation: 20 mins
Cooking: 25 mins
Makes: 12
What you need:
200g/7oz soft light brown sugar
200ml/7floz sunflower oil
2 medium eggs
200g/7oz plain flour
2.5ml/1/2 tsp baking powder
2.5ml/1/2tsp bicarbonate of soda
pinch of salt
5ml/1 tsp ground cinnamon
200g/7oz carrots, peeled and grated
50g/2oz walnut pieces, chopped
5ml/1 tsp vanilla essence
For the icing:
225g/ icing sugar, sifted
25g/1oz unsalted butter
75g/3oz chilled full fat cream cheese
food colouring and writing icing
What you do:
Preheat the oven to 170C/Fan 150C/325F/Gas Mark 3. Line a deep 12-hole muffin tin with paper cases.
Place the sugar, oil and eggs in a large bowl, then beat together with a wooden spoon until the mixture is smooth and thickened. Sift over the flour, baking powder, bicarbonate of soda, salt and cinnamon then fold in until well mixed. Fold in the carrots, walnuts and vanilla essence.
Divide the mixture between the paper cake cases. Bake in the middle of the oven for 25mins or until golden, risen and the middle bounces back when lightly pressed. Leave to cool in the tin for 5mins before transferring to a wire rack to cool completely.
For the icing: Use an electric whisk to beat the icing sugar and butter together in a large bowl until fluffy. Add the cream cheese and briefly beat together again until just combined. Don't overbeat or it will become runny. Spread the icing over the muffins, then let the kids go mad icing the cakes with spooky characters.
Freezing instructions:
Un-iced these muffins freeze well. Once cold pack them into a freezer proof container or bag and freeze for up to 3 months. Thaw at room temperature for about 1 hour, then ice as instructed.
This page can be found at: http://secretsauce.co.uk/cakes-desserts/muffin-recipes/halloween-carrot-muffins/
A short link can also be used: http://bit.ly/ekuo3C
British Carrots

For carrot history, fun facts, recipes and information on buying, storing and preparing carrots, visit British Carrots.
More from British Carrots

Casserole's a classic winter warmer and this one with apple gravy is just delicious and really straightforward to make. Go on, tuck in!

If you've got loads of turkey leftovers, here's a great recipe that will not only use them up, it'll provide you with another delicious meal!

If you're after a healthy, warming soup, then this one's definitely worth making. Get some fresh crusty bread to serve with it and lunch is sorted!
Popular in muffin recipes

When it comes to cakes, very little beats a moist, soft, light, fruity muffin and these raspberry versions are no exception

These delicious, fruity berry mini muffins are perfect for lunchbox snacks and simple enough to bake with the kids.

Sweet, delicious breakfast muffins will certainly get your morning off to a good start!