Sausage & carrot casserole with apple gravy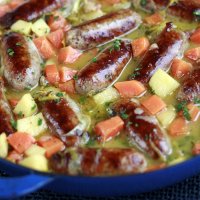 Casserole's a classic winter warmer and this one with apple gravy is just delicious and really straightforward to make. Go on, tuck in!
Serves: 4
What you need:
12 Lincolnshire sausages
1 tbsp rapeseed oil
1 onion, peeled and finely chopped
2 large carrots, peeled and cut into 1cm dice
4 rashers streaky bacon, cut into dice
1 leek, washed, trimmed and finely sliced
1 tbsp plain flour
200ml good quality apple juice
100ml chicken stock
2 Cox's apples, peeled, cored and cut into large dice
1 tbsp wholegrain mustard
1 tbsp sage, finely chopped
What you do:
Heat the oil in a large casserole dish, add the sausages and brown well on all sides. Remove and set aside. Add the onion, carrot, bacon and leek and cook for 10-15mins, until softened and starting to brown. Stir in the flour and cook for a further minute, then blend in the apple juice and stock.
Bring to the boil, return the sausages to the pan, season with sea salt and black pepper and simmer gently for 25mins.
Add the apple pieces and cook for a further 10-15mins, until they have softened. Stir in the mustard and sage and adjust the seasoning as necessary. Serve with creamy mashed potato.
This page can be found at: http://secretsauce.co.uk/meat-poultry/sausage-recipes/sausage-and-carrot-casserole-with-apple-gravy/
A short link can also be used: http://bit.ly/fxrnSF
British Carrots

For carrot history, fun facts, recipes and information on buying, storing and preparing carrots, visit British Carrots.
More from British Carrots

If you're after a healthy, warming soup, then this one's definitely worth making. Get some fresh crusty bread to serve with it and lunch is sorted!

If you've got loads of turkey leftovers, here's a great recipe that will not only use them up, it'll provide you with another delicious meal!

For a bit of Halloween fun, try these spooky ideas! They are quick and easy and get the kids eating veg too!
Popular in sausage recipes

This is a classic British dish that's like a giant sausage roll. Serve with greens and mustard for a traditional dinner for two

This is the best breakfast, especially if you've over-indulged a little the night before, but don't save it until then, it's great for dinner too!

Cocktail sausages cooked in honey are popular finger food, but wait until you've tried these sweet chilli versions